App helps Chongqing 'bang bang' porters find jobs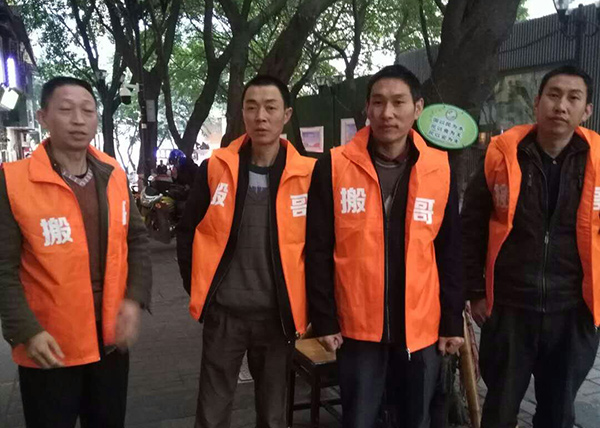 In the local dialect of Chongqing, porters with ropes and bamboo poles are called bang bang. They are a distinctive group known for helping residents carry heavy items in the mountainous port city along the Yangtze River.

Usually, these porters try their luck around the city to find a job, such as frequenting the railway stations and department stores where people may need them. But when someone needs to hire a porter, he or she also has to go around and shout out "bang bang" in a very loud voice to call their attention.

Recently, a local startup company developed an app called Bang Ge, which means porters in Chinese, to help people find the nearest porters, similar to ride-hailing apps such as Didi.

The porters who have registered with the company will wear an orange vest with the company's logo. The average fee for carrying one item less than 20 kilograms for a 20-minute walk is about 15 yuan ($2) and the price varies according to the weight and distance.

The app went online in May and now the company is busy recruiting porters.

"So far there are over 1,000 porters registered with our app," said the company manager Huang Chaoyang.

"In the sharing economy, anyone can become our registered porters, not just bang bang."

After six months of operations, there are an estimated 1,500 working stations around the city and each station has three to five porters, he added.

It is estimated that the number of bang bang and their "army of poles" reached half a million when rural labor flocked to the city decades ago, but their numbers are shrinking quickly due to economic development and urbanization, according to the Chongqing Academy of Social Sciences.

Now it is estimated that only about 10,000 bang bang remain in Chongqing.