Coffee brings prosperity to Yunnan farmers
Share - WeChat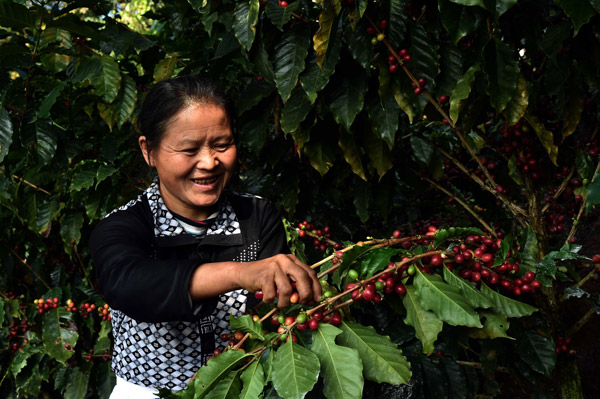 Harvest time in Padangba, Yunnan province, is when Huang Chuanhe and his wife are too busy to nap after lunch. They must quickly gather ripe coffee berries while the weather is good.
The farmer owns a plantation of more than 3 hectares. Last year, he earned more than 100,000 yuan ($15,130) growing coffee.
The crop has transformed the fortunes of Huang in Padangba, and many other villages in Yunnan, pulled along by exports and burgeoning national consumption.
Padangba was impoverished when the local government and a coffee company called Hogood persuaded its farmers to try the crop a decade ago. Today, over 22 hectares are devoted to it.
"We used to grow sugar cane and were reluctant to switch to coffee," Huang said. "After visiting other villages and seeing their gains, some of us gave it a try.
"Growing coffee is less tiring than growing sugar cane. During harvest season, the elderly and children can all come to help pick the coffee beans."
Hogood said it has encouraged about 400,000 farmers in Yunnan to plant coffee over an area of 18,000 hectares.
The company provides farmers with free seedlings and technical guidance to ensure quality. A protective pricing system is also in place to guarantee income.
Changing national habits have driven the crop's adoption. Coffee consumption in China has grown by an annual average of over 22 percent since 2006. Last year, with 128,200 metric tons of beans purchased, the country ranked among the world's largest consumers.
Yunnan accounts for over 98 percent of domestic production. In 2016, the southwestern province grew 136,000 tons of coffee and sold over half abroad to generate export revenue of $280 million, according to the provincial agriculture authority.
"The coffee market in China has strong growth potential," said Hu Lu, vice-president of the Coffee Association of Yunnan. "The development of the coffee industry in the province can help alleviate poverty effectively."
Xinhua