Soaring platform rises in Chongqing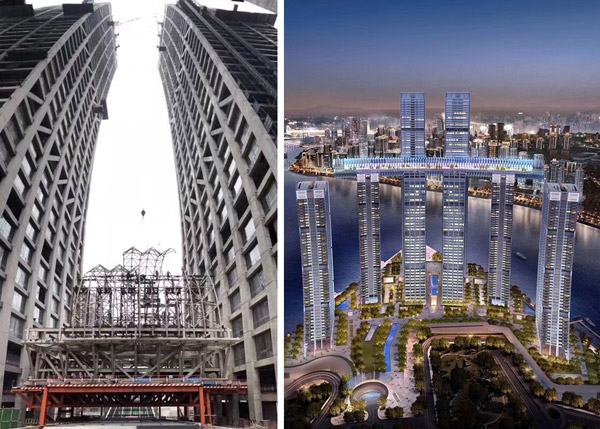 Raffles City Chongqing, a distinctive complex of buildings in the heart of the city, has begun the weeklong process of lifting a 300-meter-long platform into its final position bridging four tall towers.
The platform, which will be enclosed by glass, will provide visitors with a spectacular view of the city and serve as a landmark in the sprawling metropolis.
The structure, which will include a deck for viewing the skyline, a fine-dining area and a sky club, represents a milestone in China's architectural history with its use of an advanced synchronous hydraulic lifting technology to hoist it into place and attach it to the four 250-meter-tall towers.
Lifting will take place in three stages.
On Wednesday afternoon, workers began lifting the center section, which weighs 1,100 metric tons. The complex process is said to be one of the world's most difficult architectural engineering feats.
Once completed, the deck-which is 30 meters wide and 22.5 meters tall-will have a floor area of more than 10,000 square meters.
Developed by the Capita-Land Group and Ascendas-Singbridge with an investment of more than $4 billion, Raffles City Chongqing is located at Chaotianmen Square, where the Yangtze and Jialing rivers converge. It is designed to look like a great ship sailing down the waterway.
It's the largest investment in China by any Singapore company. The complex covers 1.12 million square meters and eight towers that include residences, a shopping mall, office space and a five-star hotel. It is expected to open in phases in 2019.
The project design was led by renowned architect Moshe Safdie in collaboration with more than 30 international consultants.
The marine metaphor is one of the underlying concepts for the project, evoking an image of great masts and sails, the sense and force of wind and the dynamic movement of the rivers. It has screens over the facades that create a billowing, sail-like visual effect.
"The observatory at Raffles City Chongqing is a breakthrough for high buildings in China," Lucas Loh Jen Yuh, chief executive officer of Capitaland China, said at the lifting ceremony. "Installation of the observatory is the critical part of the whole project. This ship is about to sail."
In 2015, Chongqing was picked as the operations center of the China-Singapore (Chongqing) Demonstration Initiative on Strategic Connectivity, a government-to-government project.
Singapore is now one of Chongqing's top foreign investors. Singaporean companies have invested $9 billion in more than 260 projects in the city, including finance, logistics, education and energy.