President Xi attends state memorial ceremony for Nanjing Massacre victims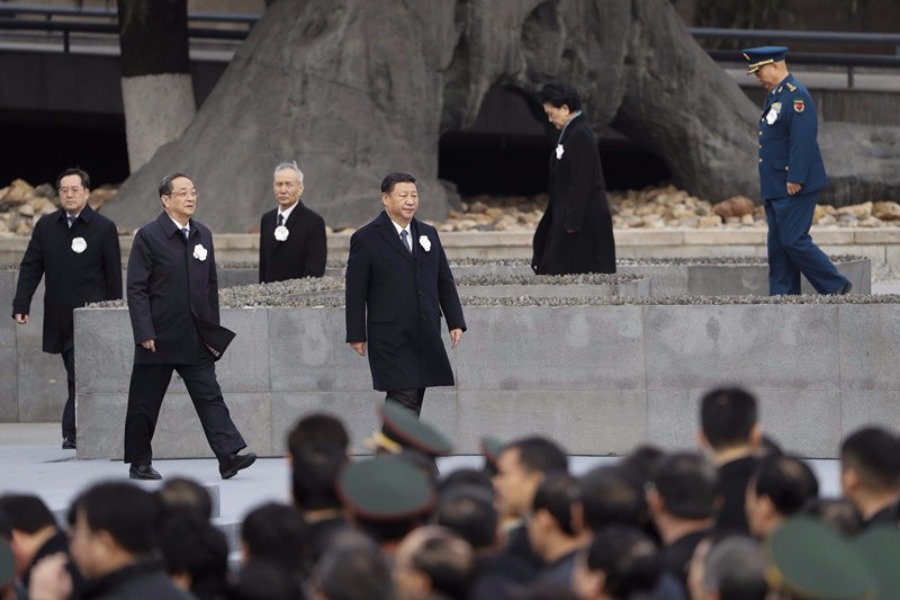 China called for joint efforts with Japan to contribute to the peace of mankind as the country held a solemn State memorial ceremony on Wednesday attended by President Xi Jinping to mark the 80th anniversary of the Nanjing Massacre.
Xi and senior officials joined people from different walks of life in paying silent tribute for one minute to the massacre victims. The ceremony was held at the Memorial Hall for the Victims of the Nanjing Massacre by Japanese Invaders.
On Dec 13, 1937, Japanese invaders occupied Nanjing, then capital of China, and killed more than 300,000 Chinese people in six weeks.
During the memorial ceremony, the national flag flew at half-staff, and students recited the Declaration of Peace, a poem that calls on the Chinese people to remember history and pursue peace.
After the memorial ceremony, Xi met with representatives of the families of survivors of the Nanjing Massacre and members of foreign families who contributed to the War of Resistance Against Japanese Aggression (1931-45).
Xi shook hands with them and asked about their health. The president told them that the history and memories should be told from generation to generation.
"We should clean the mirror of history, wipe off the dust, use history as a lesson, and move forward to the future," Xi said.
Yu Zhengsheng, chairman of the National Committee of the Chinese People's Political Consultative Conference, said in his address at the ceremony that the invasion waged by Japanese militarists not only was a huge disaster for Chinese people but also brought great injury to Japanese people.