Tokyo Trial memorial hall set for Shanghai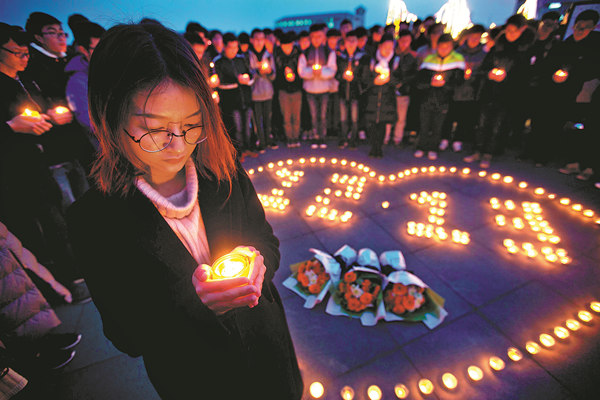 A memorial hall for the Tokyo Trial, the tribunal for accused Japanese war criminals, will be built in Shanghai, a leading expert in the field said ahead of the National Memorial Day for Nanjing Massacre Victims.
Official planning for the memorial hall started early last year and preparatory work is steadily advancing, said Cheng Zhaoqi, director of Shanghai Jiao Tong University's Center for the Tokyo Trial Studies.
The memorial day falls annually on Dec 13 and this year marks the 80th anniversary of the Nanjing Massacre, in which more than 300,000 Chinese were killed by Japanese invaders when Nanjing was occupied in December 1937.
"The government has been selecting a site for the memorial hall for months. Such a hall will be of major significance for the country, and we all understand that it's difficult to find a spot in downtown Shanghai," Cheng said. "I believe it will come into being soon."
Precious historical evidence collected by researchers at home and abroad about the whole process of the court trial — from the establishment of the court and the disputes over jurisdiction to the trial and the discussion over measurement of penalties — as well as its far-reaching effects of the trial will be shown in the memorial hall, according to Cheng.
The post-World War II trial, known as the International Military Tribunal for the Far East, began in Tokyo on May 3, 1946, and remained active until Nov 12, 1948.
As an initiative to implement the Cairo Declaration — a 1943 statement by China, Britain and the United States setting postwar goals — the tribunal followed the model of the Nuremberg trials. Japanese leaders were tried for conspiracy to start and wage war, atrocities against humanity, and planning, authorizing or failing to prevent transgressions by commanders.
However, officials in Japan have repeatedly tried to negate the results of the Tokyo Trial, Cheng said.
"It's been imperative to recognize the achievements of the Tokyo Trial, and our country must air a voice of justice," he said.
Gao Wenbin, then a translator and secretary to Chinese prosecutors, and the only Chinese still alive among those who participated in the work related to the Tokyo Trial, initiated the idea of establishing such a memorial hall.
"History should never be forgotten and facts should never be distorted," Gao, a 96-year-old Shanghai native, told Xinhua News Agency.
Cheng also said some reports by foreign media that had quoted him as saying the memorial hall will have the same social significance as the Memorial Hall of the Victims in Nanjing Massacre and become another national memorial facility for the War of Resistance Against Japanese Aggressions (1931-45) were incorrect.
"The Nanjing Massacre was publicly recognized as a major disaster for the country, while the Tokyo Trial was the final judgment of the atrocity by the Japanese war criminals. It's hard to compare their importance," he said.