'Right steps' point to a healthier China
Share - WeChat Country will benefit greatly from medical research and policy changes, says executive of pharmaceutical giant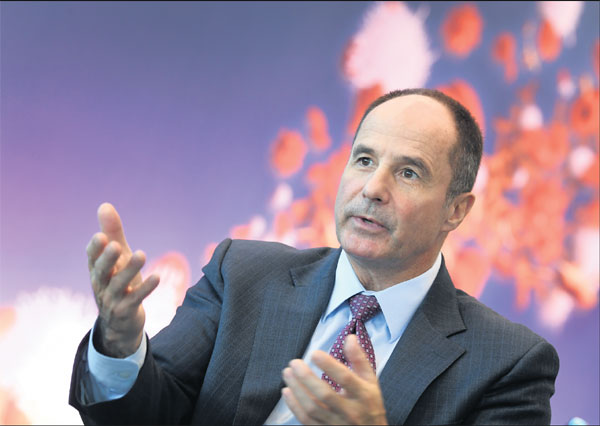 China's emphasis on innovation in recent years has led to more opportunities for global clinical development and research programs to be conducted in the country, something that has benefited its people, says a leading executive at a top German pharmaceutical company.
Dieter Weinand, president of Bayer AG's pharmaceuticals division and a member of the company's management board, said: "The Chinese government is taking the right steps in assuring that new medicines can be approved in China faster, by allowing full studies conducted in other countries to be utilized and updated in China."
He said the company used to have to set up separate programs for China, which meant it took much longer for new drugs to reach Chinese customers.
Speaking at the Annual Pharmaceuticals Media Day in Berlin, Weinand said: "The ability to include Chinese patients now in clinical research and development in a global program will automatically bring more clinical research into China."
He said the company welcomes the Chinese government's recent reforms, which "make it much easier for us to get drugs to the market faster in China". Weinand said the move also adds an incentive for Bayer to conduct more comprehensive and advanced clinical research at its China Innovation Center in Beijing, which until now has only hosted early-stage research.
Bayer's links with China go back a long way: The business established a presence in the country in 1882. As a leading global company in the fields of healthcare and agriculture, its classic medicine - aspirin - has a history going back 120 years.
Today, China is Bayer's largest single market in Asia, accounting for sales of more than 2.67 billion euros ($3.18 billion; £2.36 billion) in 2016. Its Chinese workforce numbers more than 10,000.
Weinand said the company's vision in relation to China is in line with the government's policy of improving the lives of Chinese people. He believes "a healthier population is more productive and a more productive population results in better economic status, and therefore a better life.
"We have a program in place with the Chinese government to support the Go West initiative, where we provide unrestricted grants and efforts for the Chinese government to bring better healthcare to the more western provinces in China. Our support has resulted in the training of physicians, not only in medical capabilities but also in administration of healthcare system and hospitals."
Thousands of physicians are being trained. The company recently signed a new agreement for the next five years, in which it commits to continue to support the effort to change the imbalance in medical care between the rural west and urban east.
Weinand said this aim aligns with the Chinese government's mission to tackle the current principal contradiction faced by the Chinese people, which is the tension between "unbalanced and inadequate development and the people's ever-growing needs for a better life". It was outlined in October by President Xi Jinping at the 19th National Congress of the Communist Party of China.
Weinand said China is on the brink of an innovation revolution in medicine, not only in treatment and clinical medicine but also in terms of the number of scientists at work.
"I recently went into an organ transplant center in Shanghai and was shocked at the success rate they have, as well as the capabilities. Even the world's leading experts are going to visit this transplant center in China to learn," he said.
Weinand applauded the consolidation that has happened, and continues to happen, in China among thousands of small, generic companies that used to co-exist and carry out their own small-scale research. He said these were not cost-efficient and their research was not always of high quality before consolidation.
"When you have a handful of major generic companies that propose high-quality generics for the Chinese market, there will no longer be any difference between the original and the generic. That allows you to treat patients inexpensively, so money can be reinvested into innovative pharmaceuticals, leading to high-quality generics at a low price for everybody, rather than paying a higher price for the originator of the patent. That innovation drive is going to be good for Chinese patients," he said.
Moving forward, Weinand said he would welcome continued progress in matters including regulatory reform, innovation, value pricing and national drug listing.
"I would like to see more frequent additions (of medicine) to the national reimbursement list. There were years when nothing was added. That is not helpful to Chinese patients, nor to innovation," he said, adding value-based evaluations of medical products should be introduced.
Last year, Bayer increased its global investment in research and development by 9.2 percent, to nearly 4.7 billion euros. Around 60 percent of that total (nearly 2.8 billion euros) was assigned to the development of new pharmaceuticals, with a focus on therapeutic areas of cardiology, oncology and women's healthcare.
In 2017, the company plans to further increase its overall research and development spending to about 4.8 billion euros.
As an innovative player in women's healthcare, Bayer has been pioneering the promotion of the estrogen balance management concept among Chinese women. Under the Post Abortion Care Project, the company is also making long-term efforts to educate women about effective contraception and reduce the harm caused by repeated abortions. To date, the project has benefited more than 6 million women.
Noting that China is Bayer's second-largest market globally, Weinand said the company is determined to further expand its involvement in the country, to improve the its healthcare and medical services and help in offering better lives to Chinese patients.
wangmingjie@mail.chinadailyuk.com