Arctic gas terminal begins Ice Silk Road
Share - WeChat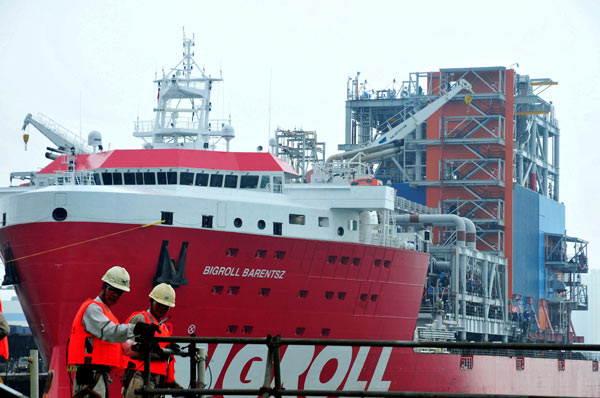 While translating Russia's rich energy reserves into a badly needed boost for its economy, the Yamal liquefied natural gas project, which aims to tap natural gas reserves totaling more than 4 billion barrels of oil equivalent, also promises benefits for China.
As the majority stakeholder with 50.1 percent, Russia's Novatek is undoubtedly the biggest winner from the project, and Russian President Vladimir Putin was right to call Yamal's inauguration a "significant moment" for the Russian economy, energy industries, polar exploitation, and his country's Northern Sea Route on Friday.
But the facility is also a good investment for the French company Total, which has a 20 percent stake and for China, as its National Petroleum Corporation and the Silk Road Fund hold a combined 29.9 percent stake.
The Arctic gas terminal is expected to supply China with 4 million tons of LNG a year, which will help to considerably mitigate the short supply of LNG, which has been prominent in the north of China recently, and facilitate the country's shift to clean energy sources.
Also since the Yamal gas project is far inside the Arctic Circle, the LNG is being shipped to China via the Northern Sea Route, which enables it to reach China in 15 days, shaving almost 20 days off the regular time using the traditional route through the Suez Canal. The shipping lane running between the Pacific and the Atlantic along Russia's northern coast offers precious support for the Ice Silk Road envisaged by China and Russia.
The northern economic route was officially incorporated into China's Belt and Road Initiative in June as a means to strengthen its energy security and benefit its foreign trade by reducing shipping costs.
The Yamal liquefied natural gas project is therefore a move of lasting, strategic significance for both countries, and its successful inauguration offers a vivid illustration of the potential of the Belt and Road Initiative and the win-win cooperation the country advocates.
As the saying goes, "Alone, we go faster; together, we go further." The Yamal Arctic gas terminal takes the Belt and Road Initiative to the extreme north, where China is willing to strengthen cooperation with Russia and other countries for the joint exploration of Arctic resources in a responsible way.
Most Viewed in 24 Hours
China Views