Play explores young Chinese woman's ambitions - and art - in New York City
Share - WeChat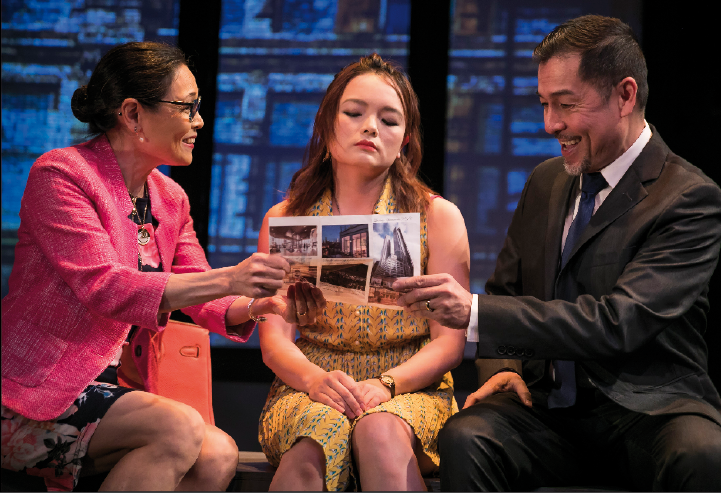 Zhu Yi delved into two current Chinese cultural phenomena - the pursuit of US real estate and art degrees - for her off-Broadway play.
Drawing inspiration from those two developments, Zhu wrote A Deal, her first Off-Broadway production. It can be seen at the Urban Stages theater in New York through Sunday.
The dark comedy tells the story of a young Chinese actress in New York who conjures up a background of family tragedy to win roles and recognition in the Western world.
In the meantime, her parents show up from China to buy real estate in New York and chase their American dream.
The play takes place in the winter of 2015, a time of increased property-buying by overseas Chinese amid a sharp decline in the value of the Chinese yuan against the US dollar.
"I think these two phenomena actually connected and related in a way, so I wanted to find a story behind them instead of telling another stereotypical story about Chinese," Zhu said.
Like many new upper-middle-class Chinese families, Mr and Mrs Li are proud to help their only daughter, Li Su, achieve a life that they themselves could only dream of - an Ivy League degree in art and an apartment in Manhattan - until they realize she's turning into a stranger.
Wei-Yi Lin, who plays Li Su, sees a lot of herself in the character, being that she happens to be an international art student and actress chasing dreams in the Big Apple.
"Li Su, the character, she graduated from Columbia University in the MFA program. She was suffering, trying to deal with her visa, the OPT (optional practical training), the EAD (employment authorization document), everything, that's exactly what I went through, said Lin.
"So for me, that part is just a no-brainer. Li Su is part of me already," said Lin, who was born and raised in Taiwan and is pursuing a career in both theatre and on screen in New York.
"I like the idea of exploring what you have to sacrifice to achieve your dreams ... and the core idea of the play, which is (people) trying so hard to carve out our identity, trying to find our who you are in your homeland and your adopted country," said John Giampietro, director of the play.
Touched by the quote by the sixth president of the United States, John Quincy Adams: "I am a warrior, so that my son may be a shopkeeper, so that his son may be a poet," Zhu Yi said she was determined to present vividly each family member of different generations.
She said she didn't make the parents of Li Su stereotypical rich Chinese parents, a grumpy father and an obedient mother.
Instead, she revealed their past as well as unearthed their suffering in self-discovery in a country with tremendous changes in the past several decades.
"I really want the world to see them (Li's parents) as humans, see their struggles, their unconditional love for their children," Zhu said.
"There are so many things going on in today's world; everyone talks about these new phenomena, but strangely, in theater and in film, we are still showing the old narrative," Zhu said.
"So I want to use theater as a form to discover the human stories behind the phenomena, to present audiences an image of contemporary Chinese," Zhu added.
"She has constructed these human characters; even though it's specifically China, it transcends an individual culture," Giampietro said.
"It (identity crisis) is not something unique to Chinese people, but universal," said Richard Barlow, a lawyer who watched the play Monday night. "I think the language she (Zhu Yi) used is honest."
Zhu, born and raised in Shanghai, received her MFA in playwriting from Columbia University. She won First Prize at the 2015 World Sinophone Drama Competition, and was Shanghai Drama Valley's 2015 Outstanding Playwright of the Year. Zhu also has had her work presented by theaters in Canada, Norway, China, Mexico, Italy, Singapore, the United Kingdom, and the US.
A Deal has been simultaneously touring China in Mandarin.
xiaohong@chinadailyusa.com