Hong Kong, Palace Museum sign letter of intent to strengthen cultural exchange. cooperation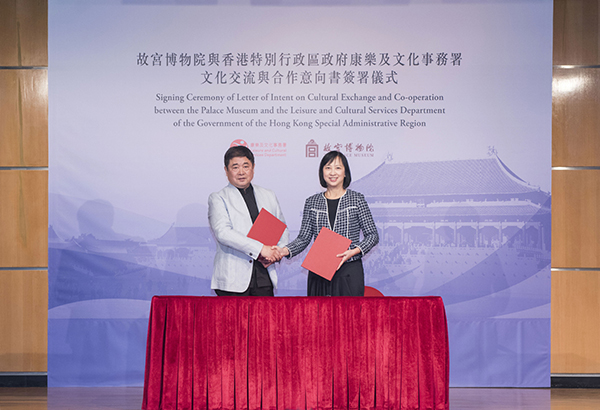 The Leisure and Cultural Services of the Hong Kong Special Administrative Region government on Thursday signed the second Letter of Intent on Cultural Exchange and Cooperation with the Palace Museum.
Under the new agreement, the Leisure and Cultural Services Department and the Palace Museum will strengthen the cooperation and communication in preserving and showcasing cultural heritage established with the signing of the first Letter of Intent in 2012.
Under the five-year plan, the two sides will continue to stage thematic exhibitions featuring artefacts from the Palace Museum in Hong Kong every year.
In addition to sharing their expertise and experiences in various areas including collection preservation and management as well as academic research, the two sides will also establish a mechanism for cooperation in personnel training for museum professionals by organizing thematic forums, academic seminars and training programs.