UN presses for Yemen 'peace pause'
Saudi-led coalition has intensified raids after ex-leader Saleh's death
GENEVA - The United Nations has called for a "humanitarian" truce in airstrikes and fighting in Yemen as it seeks to deliver aid to civilians trapped in the capital Sanaa.
"I sent a message asking for a truce, a peace pause, a humanitarian pause, for the parties to stop shooting, stop fighting, stop airstrikes, so the people can go to hospitals, can go to seek safety... and go to also find a place for water and food," UN humanitarian coordinator Jamie McGoldrick told reporters in Geneva by phone from Sanaa.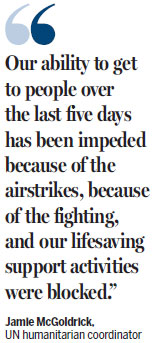 "Our ability to get to people over the last five days has been impeded because of the airstrikes, because of the fighting, and our lifesaving support activities were blocked," he said.
McGoldrick's statement came a day after Yemen's Houthi rebels killed former president Ali Abdullah Saleh as he fled the capital following the collapse of their uneasy alliance.
For the five previous nights, heavy fighting had rocked Sanaa, leaving at least 234 people dead and 400 wounded, according to the International Committee of the Red Cross.
After Saleh was killed, Saudi-led coalition warplanes pounded the capital before dawn on Tuesday as the rebels moved to consolidate their control over the city.
The coalition intensified airstrikes on Yemen early on Wednesday as the Houthi forces tightened its grip on the capital, one day after Saleh's son vowed to lead a campaign against the Houthis.
Saleh had helped the Houthis win control of much of the country's north, including Sanaa, and his decision to switch allegiances and abandon the Houthis in the past week was the most dramatic change on the battlefield in years.
Coalition fighter jets carried out dozens of airstrikes, both sides said, bombing Houthi positions inside Sanaa and in other northern provinces.
Yemen's pro-Houthi Al Masirah television station said the coalition bombed Saleh's residence and other houses of his family members.
"What happened... because of our inability to move in the city during the five days - the UN agencies, Red Cross and NGOs - we were unable to do our lifesaving treatments," McGoldrick said.
"Now the uncertainty continues and despite what happened yesterday, we don't know if we can start doing our operations or whether we have to wait for some time," he said.
Yemen's civil conflict has left thousands dead since 2015, sparking what the UN now labels the world's worst humanitarian crisis.
McGoldrick said a UN team would travel to Riyadh "quite soon".
Saudi Arabia imposed a blockade on Yemen's ports after a Houthi missile was intercepted near Riyadh airport on Nov 4.
The blockade has been eased only partially despite repeated calls from the UN.
Afp - Xinhua - Reuters