11 unheated Hebei primary schools get temporary heating
Share - WeChat The 11 primary schools without heating in Quyang, Hebei province have all realized temporary heating by 4 pm Tuesday after it was reported that students had classes under the sun in order to keep warm, the Beijing-based news website eeo.com.cn reported Tuesday.
"It is estimated that the fitting of electrical cables will be completed by 5 pm tomorrow, ensuring that electric heating is available to all rural primary schools." said an official with the publicity department of Quyang county on Tuesday.
Earlier that day, China Youth Daily ran a report saying that although the minimum temperature in Quyang has dipped below zero recently, many rural schools still haven't been supplied with heating.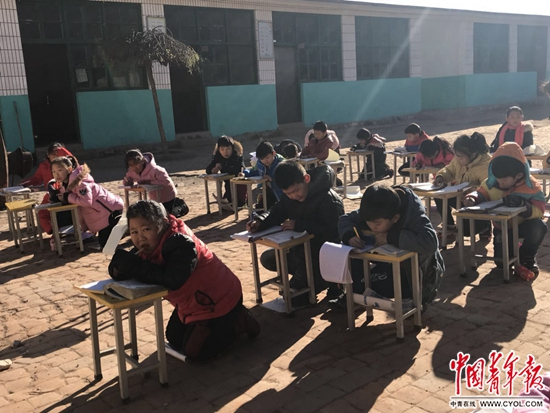 The report said that some schools organized outdoor classes in the sunshine due to low temperatures inside the classrooms. Some students have been arranged to run on the playground to keep warm. Still other primary school students have shown symptoms of frostbite.
It was already about 20 days after the official start of the heating season, according to the report.
The education authority of the county said all schools are required to have electrical heating this year, instead of coal-fired heating. However the coal-to-electricity upgrade project did not finish on time, leading to the delay in heating these schools.
After reading the report, Wang Peng, the Party chief of the county, said that he has summoned officials from the education and electricity departments for a meeting and demanded that heating must be available in all 11 schools before 6 pm Tuesday. Schools unavailable for electricity will use clean coal for heating instead.
In addition, from Tuesday on, a thorough check will be carried out in all primary schools in Quyang county to make sure every student does not suffer from the cold weather.
Wang added that an investigation team has been set up to look into the issue and those who have breached their duties will be held responsible.