Vice-Premier Liu meets May in London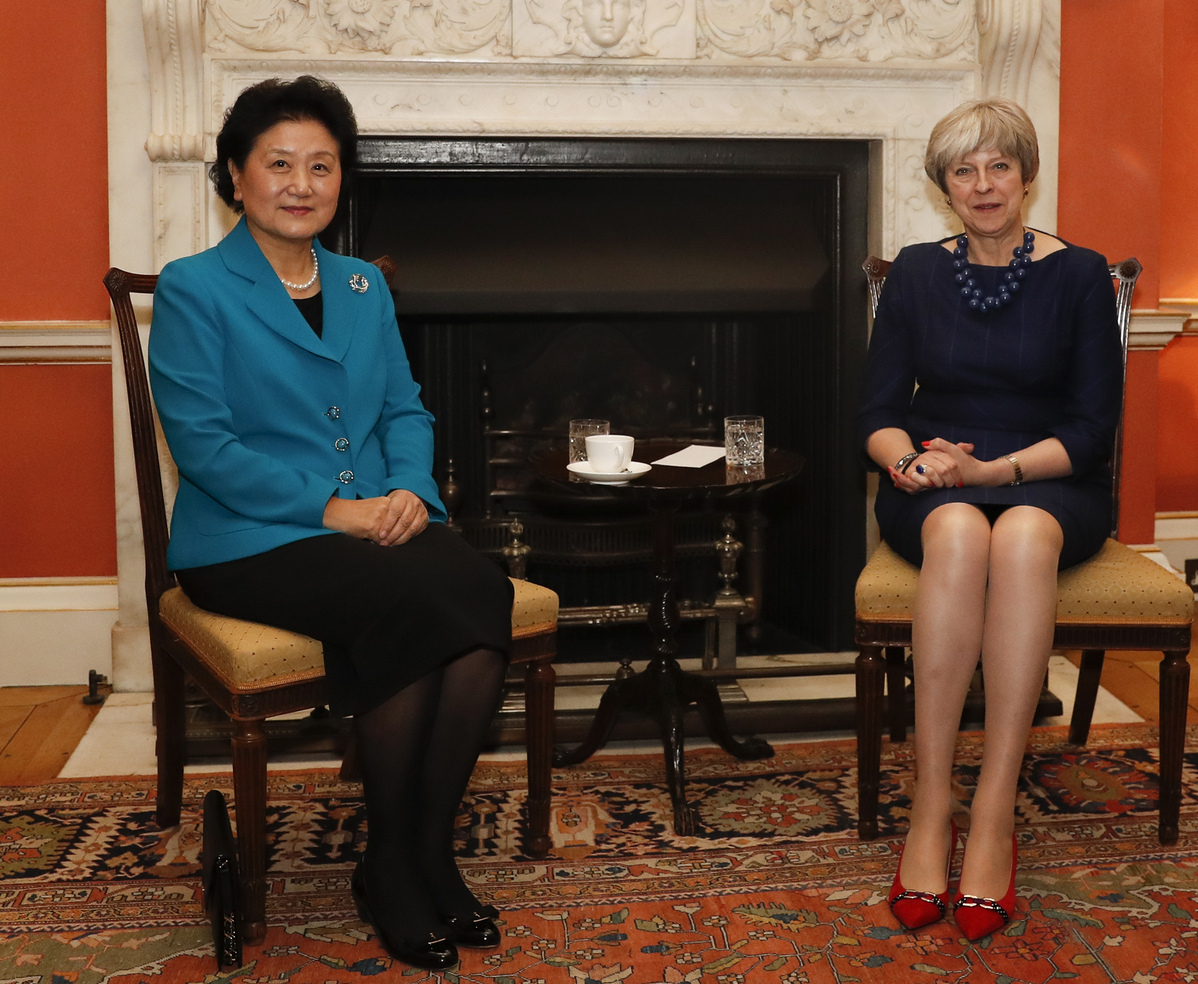 Visiting Vice-Premier Liu Yandong met with British Prime Minister Theresa May at 10 Downing Street in London on Tuesday, the first full-day of her official visit to the United Kingdom that lasts from Monday until Thursday.
Liu said the successful 19th National Congress of the Communist Party of China has injected new impetus to future development of Sino-UK relationship. And the Belt and Road Initiative provides new opportunities for cooperation between China and the United Kingdom.
She said the two sides should fully implement the important consensus of the leaders of both countries, further enhance mutual trust, properly handle differences, and push forward the practical cooperation in various fields to a new level.
May extended congratulations to the successful conclusion of the 19th CPC National Congress, saying Britain attaches great importance to the vision and goals of China's future development blueprint and goals proposed by President Xi Jinping.
May said the UK is looking forward to maintaining high-level contacts and dialogues with China, and further strengthening exchanges and cooperation in the fields such as education, science, technology, innovation, culture, and women issues.
The UK will remain open to Chinese investment, May said, and welcome more Chinese tourists come to visit the country.
The vice-premier came to Britain to co-chair the fifth annual UK-China High-Level People-to-People Dialogue with Jeremy Hunt, Britain's secretary of state for health. She is also expected to attend to several events and meet with a number of senior British officials.
On Tuesday morning, Liu met with Scotland's First Minister Nicola Sturgeon in Edinburgh, Scotland. They discussed topics including education, trade and investment, energy and environmental protection, technology and innovation, cultural connections between China and Scotland.
Liu said the economic and cultural relations between the two countries have witnessed steady growth, and China looks forward to deepen cooperation with Scotland.
Sturgeon said China is an important export market for Scottish products such as food, drinks and financial services. She also said the two countries have strong cultural links and Scotland continues to draw a significant number of tourists from China every year.

duxiaoying1@chinadaily.com.cn