iFlytek boosts use of AI in healthcare sector
Share - WeChat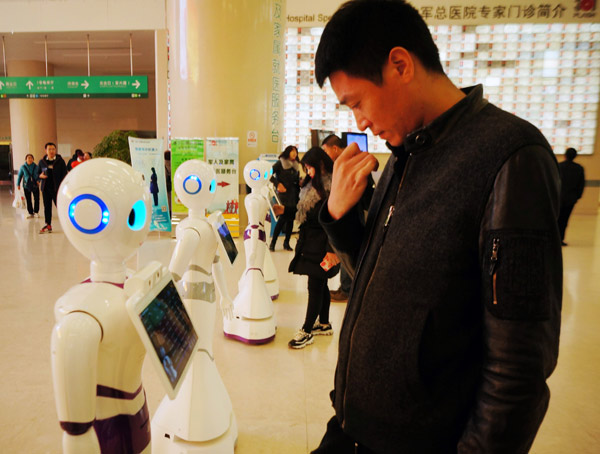 The digital-age marriage of business with high-tech is helping improve services in China's healthcare sector. A shining example is the Anhui Provincial Hospital of Central China.
Doctors there are well served by a smart, well-qualified assistant. 'She' records patients' symptoms, reviews computerized tomography scan images and makes initial diagnosis. Only, she is not human but a robot that runs on artificial intelligence.
Developed by iFlytek Co Ltd, a leading Chinese AI company, the robot aced the written test of China's national medical licensing examination-it is a test that aspiring doctors need to pass-in November, thus becoming the first device in the world to achieve the feat. It received 456 marks, 96 more than the minimum required to qualify.
The robot is iFlytek's pilot project at the Anhui hospital. It is meant to see how the robot could help in real-life medical cases.
The initiative is part of broader efforts by China to accelerate the application of AI in healthcare. This has become necessary as China's aging society struggles to find adequate number of high-quality medical facilities.
Liu Qingfeng, chairman of iFlytek, said, "We will officially launch the robot in March 2018. It is not meant to replace doctors. Instead, it is meant to promote better people-machine cooperation so as to boost efficiency."
Unlike the AI-enabled Watson system of US tech company IBM, which only focuses on the treatment for cancer and major diseases, iFlytek is exploring how to use AI to both treat cancer and train general practitioners.
"General practitioners are in severe shortage in China's rural areas. We hope AI can help more people access quality medical resources," Liu said.
Jin Xiaotao, deputy head of the National Health and Family Planning Commission, said more efforts are needed to advance the application of AI in the medical sector.
In November, iFlytek was chosen by the central government as one of the four tech heavyweights to build the national AI open innovation platform by leveraging voice computing technologies.
The move put the Hefei-based company on a par with Alibaba Group Holding Ltd, Baidu Inc and Tencent Holdings Ltd, China's "Big Three" internet players.
iFlytek was formed at the University of Science and Technology of China in 1999, and has been focusing on voice recognition technologies for 18 years now.
Its AI-enabled user interface platform has accumulated 460,000 third-party developer teams in the past seven years.
In April, the company started a partnership with the Chinese Academy of Medical Sciences & Peking Union Medical College, a premier medical university in the country.
The two sides set up a research center in Beijing to explore how to apply AI in medical treatments and training. Findings of research into brain science, neuroscience and other areas will be first tested in the Chinese Academy of Medical Sciences' affiliated hospital before being promoted at other medical institutions.
Cao Xuetao, president of the Chinese Academy of Medical Sciences, said AI can help accelerate medical research by boosting computing capabilities, and it can also efficiently use limited resources by offering partly automated solutions.
Today's Top News
Editor's picks
Most Viewed