Saving a slice of heritage
Share - WeChat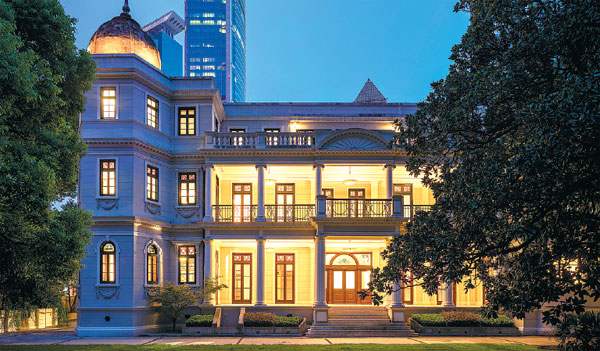 Rong Zhai is a historical building that has witnessed the changes of Shanghai society and its culture. [Photo by Agostino Osio/China Daily]
Shanghai has a lot of European style villas and gardens. Those buildings from the 19th and 20th centuries are hidden by the shade of trees in narrow streets.
Since mid-October, a three-floor white villa with Roman columns, stained-glass, an orange dome and a lavish green garden, at Shaanxi Beilu Road, has attracted attention.
The house is called Rong Zhai, the abode of the Rong's family.
It has just been restored by a team comprising Italian and Chinese architects and craftsmen commissioned by Italian fashion house Prada.
The house will be open to the public till Dec 17.
At the turn of the 20th century, a German businessman spent 10 years working on the house and garden.
Then, in 1918, Rong Zongjing (Yung Tsoong-King, 1873-1938), a famous Chinese entrepreneur who owned a successful business of flour and yarn and was called "the flour king of China", bought the house and commissioned architect Chen Chunjiang to remodel it.
Rong's house was one of the meeting places for celebrities and entrepreneurs.
During the Japanese occupation in Shanghai, Rong refused offers to join the Japanese-controlled government, and he had to move to Hong Kong in 1938, leaving the house vacant.
Since 1949, the house has been used by several organizations.
In 2002, media tycoon Rupert Murdoch rented it for the Shanghai office of News Corporation.
And in 2011, Miuccia Prada, the founder and designer of Prada visited Shanghai and fell in love with the residence.
A passionate lover of design and architecture, Prada decided to restore the house.
An Italy-China team led by Italian architect Roberto Baciocchi spent six years bringing back life and charm to the old house.
"Rong Zhai is a historical building that has witnessed the changes of society and culture," says Baciocchi.
He says the restoration aimed to both repair damage and reinstate the building's interiors and exterior, while also doing structural reinforcements and functional updates.
"We tried to restore it to its original appearance, blending Chinese cultural elements into this Western-style building," he says.
The team undertook the conservation of the building's many ornamental and structural elements, including plaster work, wooden paneling, stained glass, and multiple types of decorative tiles.
He also says that the biggest challenge was communicating with Chinese craftsmen.
"We feel a great sense of achievement that whenever possible fabrication and installation techniques were modeled on the traditional methods and materials used by craftsmen who built the house over a century ago," he says.
Most Popular