Commitment, effort key to making China world leader in TB control
Between 1990 and 2010, China halved the number of new tuberculosis infections within its borders - achieving the United Nations Millennium Development Goal for TB five years ahead of schedule.
Since then, the number of cases has continued declining, from 7.1 per 1 million in 2011 to 6.3 per 1 million in 2015, according to the National Health and Family Planning Commission.
"I would say that's probably the best progress that we've seen in tuberculosis control for a long time, and China was able to succeed in doing that," said Daniel Chin, a TB expert with the Bill & Melinda Gates Foundation who's from the United States.
"That was all because of the tremendous effort and commitment by the government, and also by the many TB experts and healthcare workers at different levels in the country."
Chin has served as an adviser to the National Health and Family Planning Commission since 1999, helping to develop programs and policies for the control and prevention of TB in China.
"There were many other international organizations who were interested in working with China, but didn't know anything about tuberculosis. I was able to provide that kind of assistance and help China develop and also apply for multiple TB control projects that brought in over $250 million," he said.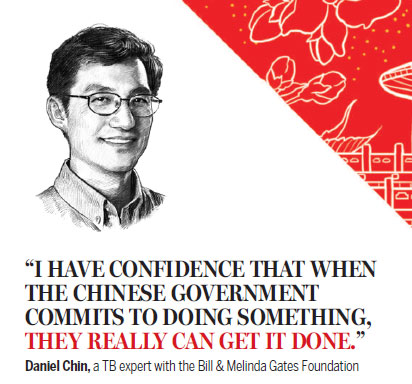 "One of the founding principles of the Gates Foundation is, 'to whom much is given, much is required'. Coming to China, being able to work on the problem of tuberculosis and being able to make a bit of a contribution has really been a joy."
China led the world in TB control from 2000 to 2010, Chin said, when a large-scale control program modeled on the World Health Organization's recommendations was implemented that ultimately saw as many as 750,000 TB patients receiving effective treatment each year - reducing their number by more than 50 percent.
"That's the best achievement in the world during that period of time," he said. Despite continued progress, China now faces new challenges such as drug-resistant TB. Of the nearly 1 million new cases in the country each year, one in 10 is resistant to treatment with multiple drugs, according to Chin.
Although access to medical care has improved throughout the country due to an enhanced primary healthcare system and expanded government insurance coverage, many TB patients still cannot access quality treatment in China, he said.
Impoverished patients, in particular, still struggle to afford treatment, but Chin expects these challenges to be overcome.
"I have confidence that when the Chinese government commits to doing something, they really can get it done," he said.
"We've seen it with China, and we've seen it with TB control over the last 10 to 15 years. My hope is that this kind of commitment will continue, because we need this kind of sustained effort and focus in order to eventually rid China of TB entirely. So that's just my hope."
About 900,000 new cases of TB are recorded each year in China - the third-highest incidence rate in the world - according to the country's health authorities.
In addition, some hospitals and clinics specifically designated for TB treatment are poorly equipped, while remote and rural areas face severe challenges in disease control and prevention, according to a national plan on the control and prevention of TB released by the State Council in February.
The plan called for improved cooperation between disease control and prevention centers and medical institutions designated for TB treatment, with increased financial support to be made available for patients from the country's basic medical insurance and medical relief programs.
By 2020, the number of new TB cases is expected to fall below 5.8 per million, it said, while more than 90 percent of TB patients will receive effective medical treatment.
wangxiaodong@chinadaily.com.cn