Innovation key to relations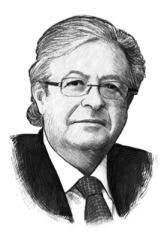 Jean-Jacques de Dardel, Swiss ambassador to China [CHINA DAILY]
Jean-Jacques de Dardel, the Swiss ambassador to China, believes that in the past five years China has advanced its efforts in global governance and is now starting to offer its own input.
He sees China as an active actor on all stages that is taking a leading role in some areas of multilateral cooperation, most notably by establishing the Asian Infrastructure Investment Bank, proposing the Belt and Road Initiative, and hosting the BRICS Summit last month.
De Dardel first visited China in 1986, and has returned many times, giving him extensive experience of the country when he assumed his current role in early 2014.
"I started to get to know China at a time when the country was still rather reserved in its international relations," he said. "But in recent years, China has taken a more active, more visible role to the point that it aims to be one of the global leaders.
"Switzerland welcomes a more active role by China as a defender of free trade and in the field of climate change."
De Dardel sees this commitment to free trade and climate change as a good direction for China to take.
Bilateral relations are at the core of his engagement. More developed Sino-Swiss relations are what he hopes for and what motivates him to work hard every day, he said. "We have a lot to gain and learn from each other, especially in terms of innovation."
De Dardel believes China is catching up with the rest of the world in terms of innovation capacity, citing its ranking in the Global Innovation Index issued by INSEAD Business School.
China surged from 43rd place in 2010 to 22nd place this year. Switzerland has been ranked No 1 since 2010.
"The catch-up is fantastic. The evolution is extraordinary, because you now carry greater weight in international relations. This is not music to my ears, this is a symphony," he said.
Speaking about his first trip to China, the ambassador said his extensive travels left him with a positive impression.
"The most mesmerizing part was that people had the same humor as me; even if we could not communicate using language," he said.
An economist by training, De Dardel is aware of how China has worked to achieve its economic transformation and improve its innovation capacity.
"Innovation will not be limited to science and technology, but will extend to the economy," he said. "China has become a consumer-led economy rather than one that relies on industrial production."
Despite China's progress, he acknowledges there are challenges ahead; one of the biggest being how to handle the waves of massive transformation properly, with the aging population among the toughest to deal with.
Yet he remains optimistic. "The innate character of the Chinese people is their dynamism, which adds to the country's capacity to constantly reform itself," he added. "However, dynamism needs liberty-an aspect that should not be neglected."
Most Viewed in 24 Hours
China Views