Colors of creation
Chinese painter helps revive traditional art form
Mention traditional Chinese painting and many people will think of the ink-wash type, which mainly uses ink and water to depict objects of different shades, from black to gray and white.
But for painter Wang Xiongfei, these kinds of paintings seem to lack color.
So for more than two decades, he has been promoting an alternative form of painting called yancaihua.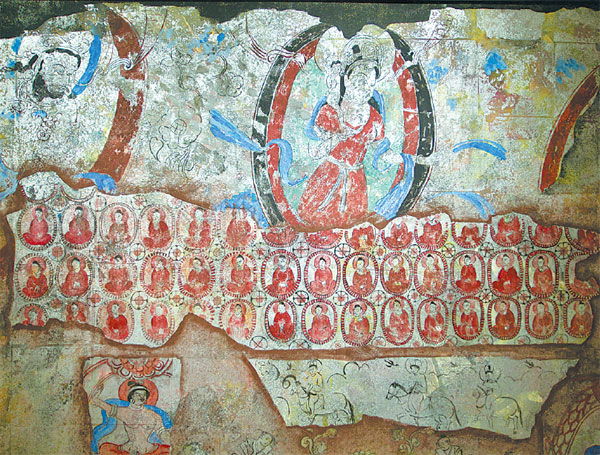 A mural by Yu Lyukui about Damagou Grotto, an ancient Buddhist site in the Xinjiang Uygur autonomous region. Provided to China Daily
Yancaihua, which literally means "rock color painting", saw its heyday in the Tang Dynasty (618-907). It uses pigments made from rock and earth, including turquoise, malachite and lapis lazuli gemstones.
In contrast to ink paintings, yancaihua features a wide range of colors and glittering particles contained in mineral pigment.
"It's an ancient painting form and can be seen in the Mogao Caves of Dunhuang in Gansu province, and Kizil Caves in the Xinjiang Uygur autonomous region," says Wang, 56.
"But the technique was lost in China as ink painting became the major form in the Song and Yuan dynasties."
Wang, who is the director of the Yancaihua Research Institute at the China Academy of Art, is now trying to revive that tradition through education and exhibitions.
From Sept 5 to 15, he organized a Silk Road Yancaihua Exhibition at the Tang West Market Museum, which displayed about 100 such works.
The exhibits were from the Chinese painters who studied with him in the past 20 years.
Wang is also curating an annual yancaihua exhibition on a larger scale in Hangzhou, capital of Zhejiang province, from Sept 24 to Oct 13.
But back in the 1980s, Wang, like most Chinese painters, first focused on the ink-wash form when he was studying traditional painting at the academy.
At that time, few Chinese painters knew about the painting tradition, even as the technique was widely used by Japanese painters.
Wang chanced upon a collection of Japanese paintings in the library and was amazed by the brilliant colors used in them.
He decided to go to Japan to learn that form of painting.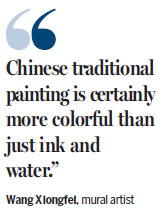 "Japan inherited that painting style from Chinese artists during the Tang Dynasty," says Wang. "However, it is called nihonga in Japanese, which literally means 'Japanese painting'."
Wang studied with renowned Japanese painter Matazo Kayama at Tama Art University in Tokyo from 1989 to 1993.
"When I told Kayama that I wanted to study nihonga, he said to me that this type of painting is originally from China," recalls Wang.
"But we had lost that tradition and I, as a Chinese, had to study it in Japan and bring it back to China."
Wang also encouraged his wife, Yu Lyukui, to study with him.
"Originally, I was studying design, then I switched to yancaihua as well," says Yu, who studied painting with Yasumichi Ichikawa, the former vice-president of Tama Art University, in 1990.
"I was mesmerized by its colors as well, it gave me more ways of expression in painting."
Once they learned the techniques, the couple returned to China in 1993 and founded the Tianya Mineral Pigment Art Center in Beijing.
First and foremost, they needed to produce the special painting pigments in China because importing them from Japan was too expensive.
Wang visited mining sites across the country to find suitable raw materials.
"In order to get all the rocks for making the pigments, I went to every province and region in China," says Wang.
Now, the Tianya Mineral Pigment Art Center produces mineral pigments with more than 3,000 different colors.
Wang also lectures at major art academies in China.
Since 1998, he has taught more than 1,000 students how to draw with the mineral pigments and organized annual tours to Dunhuang and Xinjiang to study the murals.
Wang also offered a yancaihua major at the Xu Beihong Arts Research Academy of Renmin University of China in 2006.
In 2009, his alma mater, the China Academy of Art, invited him to teach the tradition.
"I am reminded of the many facets of colors in Chinese painting every time I go to Mogao and Kizil," says Wang. "Chinese traditional painting is certainly more colorful than just ink and water."
xingyi@chinadaily.com.cn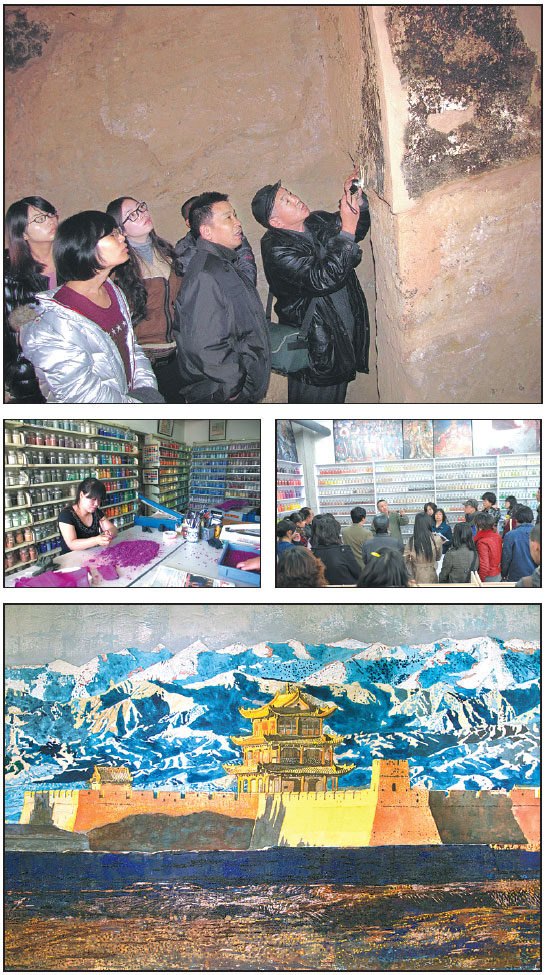 Top: Wang Xiongfei (right) leads his students on a visit of the Kumatula Cave in Xinjiang. Left: A worker at Wang's workshop produces painting pigments used in yancaihua. Right: Wang (center) explains to a group of students about the pigments. Above: A yancaihua painting of Jiayuguan, an ancient city gate in Gansu province, by Yu Lyukui, Wang's wife. Photos Provided to China Daily
(China Daily 10/04/2017 page5)