Villagers demand name of disputed statue's new holder
Share - WeChat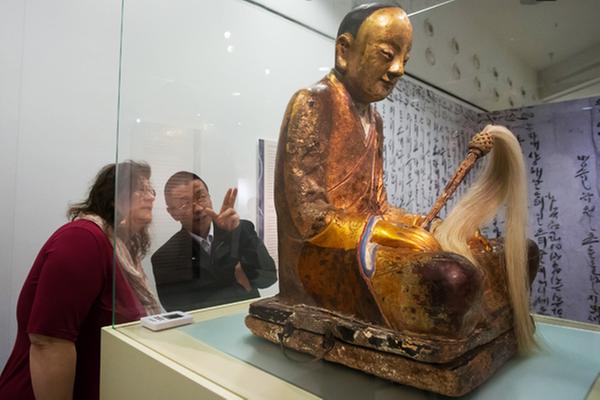 The Zhang Gong Patriarch on display at the Hungarian Natural History Museum in Budapest, Hungary, in 2015. [Photo/Xinhua]
Chinese villagers suing for the return of a statue they claim was stolen from their local temple have demanded that the Dutch owner disclose the identity of the disputed artifact's new holder.
The 1.2-meter-high Buddha statue, which contains mummified human remains, was bought by Oscar van Overeem, an architect and experienced art collector in Amsterdam, in 1996.
However, on Friday, Van Overeem told a court in Amsterdam that he had exchanged the statue for several Buddhist artifacts, and no longer knows where it is. He declined to name the new holder.
The plaintiffs claim the 11th-century relic was stolen from a temple in Yangchun village in the eastern province of Fujian more than 20 years ago, and that it contains the mummified remains of Zhang Gong, a revered Buddhist monk who lived during the Song Dynasty (960-1279).
They began the process of retrieval after recognizing the artwork, known as the Zhanggong Patriarch, when it was exhibited in Hungary in March 2015.
While Van Overeem conceded that the Buddha originated in Fujian, he insisted it is not the statue that was stolen from the temple in Yangchun.
The villagers said Van Overeem had previously agreed to return the statue if conditions he stipulated were met, but when negotiations failed they filed the lawsuit with the Dutch courts.
The demand was debated during the first day of the court hearing.
The case is being watched closely because it could mark the first successful retrieval of a Chinese relic via court proceedings. Previous relics have been returned to their rightful owners through diplomatic channels.
Anonymous holder
At the hearing, Van Overeem stated that the new holder of the statue is a "collector-investor-intermediary", who "is aware of the mummy controversy and political sensitivities, and prefers to remain anonymous".
When asked to disclose the holder's name, or email exchanges that would illustrate how the deal was negotiated and the conditions under which the exchange was made, he refused.