Intel would like to work with Alibaba on Olympics tech
Share - WeChat An Intel executive said that the company hopes to collaborate with Alibaba for upcoming Olympic Games after it was announced that the American tech giant signed a seven-year deal with the Olympics to develop technology solutions.
Intel announced that it will bring 5G platforms, virtual reality, 3D and 360-degree content development to enhance the Olympic Games through 2024, integrating much of its latest technology, starting with the 2018 Winter Olympics in Pyeongchang, South Korea.
"We're super excited to be in China and already thinking about the [2022 Winter Olympic] games in Beijing," said Julie Coppernoll, vice-president of global client marketing at Intel.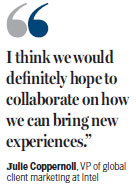 "When you look at who the top sponsors are that are in China, although we only had very preliminary discussions, one that we would aspire to partner most with, first and foremost, would be Alibaba, who just entered into the Olympic family ahead of us," she said on Wednesday.
In January, Alibaba committed to be an Olympic partner through 2028, providing official cloud services and e-commerce platform services to the International Olympic Committee.
Intel's Coppernoll said that it will be part of the planning cycle for the 2022 Winter Games in Beijing, and that Intel plans to work with the Beijing operating committee to implement its technology platforms.
"We're super excited to work with the operating committee in Beijing that's working on the Games, to go through the experiences [from our technological platforms], including the first 5G network that will be more broadly operational [by 2022], and working with global service providers," she said.
"We haven't picked who our exact partner would be, but 5G would be a huge opportunity for both of us and as well as the Games," she added.
Coppernoll said that Intel hopes to work with Alibaba on data storage and analytics and use its technology in conjunction with Alibaba's.
"I think we would definitely hope to collaborate on how we can bring new experiences, how you store these in the cloud, how you make them accessible to the Chinese viewer, and how you make them accessible all over the world," she said. "Alibaba would be a huge partner in that."
Gerry Pennell, chief information and technology officer at the International Olympic Committee, told China Daily that partnering with Alibaba is both an "economical and sustainable choice".
The committee is transitioning all of its software platforms and assets to Alibaba's cloud service, as well as relying on Alibaba's e-commerce experience to create a new online shopping experience for Olympic fans.
amyhe@chinadailyusa.com
(China Daily USA 06/22/2017 page2)
Today's Top News
Editor's picks
Most Viewed