Plant that wards off evil wins new generation of supporters
Share - WeChat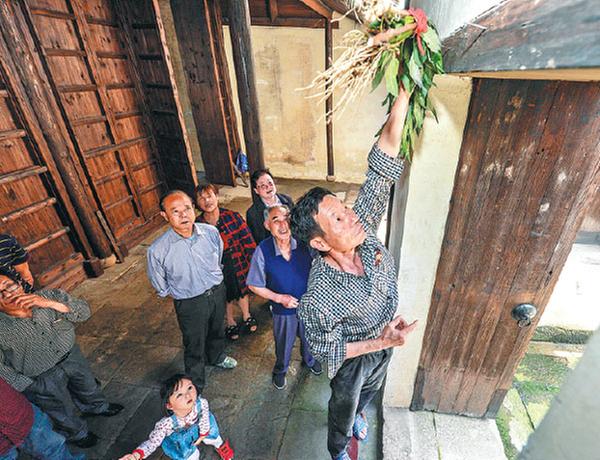 A resident of Yigao village in Huzhou, Zhejiang province, hangs argy wormwood on the door of the village's ancestral hall to prepare for the Dragon Boat Festival celebrations last year. Xu Yu / Xinhua
People's to-do lists for the Dragon Boat Festival, traditionally celebrated on the fifth day of the fifth lunar month, often include hanging a plant called argy wormwood on the door, which is believed to eliminate evil spirits or misfortunes.
Its fragrance can also keep annoying insects such as mosquitoes at bay. In ancient times, people believed the plant had rich yang energy, which would ward off evil.
In truth, argy wormwood, tastes bitter, but smells intensely pleasant, and its use as a medical treatment dates back to the Compendium of Materia Medica, widely deemed the bible of traditional Chinese medicine.
In the book, written by Li Shizhen, a renowned TCM practitioner during the Ming Dynasty (1368-1644), the plant is renowned for its ability to cure hundreds of ailments, including rheumatoid arthritis and irregular menstruation. Additionally, it can alleviate asthma and serious coughs, kill bacteria and viruses, stop bleeding, protect the liver and improve gallbladder function.
Hundreds of years later, in Qichun county, central Hubei province, where Li Shizhen was born and raised, the leafy green plant is still providing jobs for local people.
Zhao Shaolian, Party secretary of Qichun, said local officials have formulated a plan to help residents cash in on the plant, a local delicacy, and the county's fame as the home of Li Shizhen.

Qichun has been busy preparing for the World Argy Wormwood Industry Conference, which will be held during the Dragon Boat Festival.
Convened jointly with the World Federation of Chinese Medicine Societies, the conference will feature an exhibition of argy wormwood-related therapeutic products and services, and field studies at local related industries and companies, according to Zhao. "It will serve as a platform to bring potential business partners together and facilitate trade."
Currently, argy wormwood is commercially available as an essential oil and in the form of capsules, tablets, tinctures and aqueous extracts.
In addition, dried wormwood leaves can be rolled into small columns, known as moxa sticks, which are used in a popular TCM therapy known as moxibustion, where the sticks are burned close to the body to fumigate acupuncture points and invigorate the meridians.
By the end of last year, more than 600 companies in Qichun were manufacturing a range of products made from the plant, with the combined production value exceeding 2 billion yuan ($290 million), Zhao said.
"It has become a pillar industry for the county and helps local people to make money," she added. "Tourism-themed health treatments and TCM are gaining even greater popularity, thanks to the plant."
A growing number of visitors are now visiting Qichun to see huge fields of wormwood, experience moxibustion, eat food prepared with the plant and buy related products to take home, she added.
shanjuan@chinadaily.com.cn
Most Popular