New rules issued to protect waterway
HANGZHOU - A new regulation has been rolled out in Hangzhou, Zhejiang province, to protect the city's section of the Beijing-Hangzhou Grand Canal, the world's longest man-made canal. The regulation was approved by the Standing Committee of the provincial People's Congress and took effect on Monday.
In June 2014, UNESCO listed the Grand Canal - whose history spans more than 2,400 years - as a World Heritage.
The 1,011-kilometer waterway from Beijing to Hangzhou, is the world's largest civil engineering project predating the Industrial Revolution.
At the south end of the canal, Hangzhou is home to five river channels and six key historical sites along the world heritage waterway.
"The current canal faces threats from both natural erosion and human overuse and development," according to sources in the committee charged with protecting the Hangzhou section of the Grand Canal.
The regulation bans construction that may threaten the environment or safety of historical sites along the canal.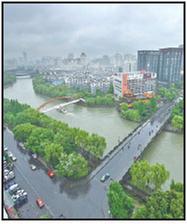 A section of the Beijing-Hangzhou Grand Canal in Hangzhou, Zhejiang province.Li Zhong / For China Daily
(China Daily 05/04/2017 page4)