Trump's 100 days in spotlight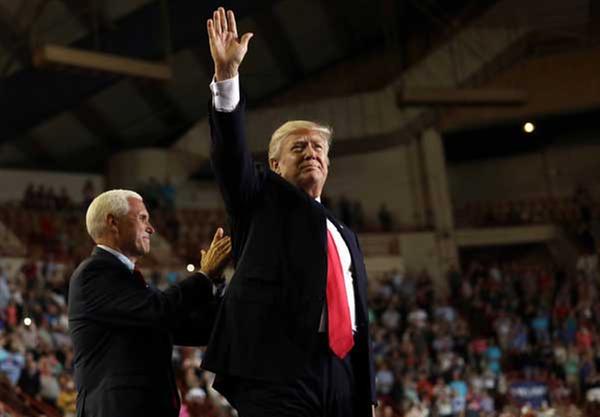 US President Donald Trump, accompanied by Vice President Mike Pence (L), leads a rally marking his first 100 days in office in Harrisburg, Pennsylvania, US April 29, 2017. [Photo/Agencies]
Saturday marked US President Donald Trump's 100th day in office, and his governance capability, personal charisma and whether he had fulfilled the commitments he made during his campaign received a lot of attention worldwide.
That Trump has successfully focused international attention on his performance during his first 100 days as president is itself a triumph, as he has successfully shifted the attention of the international community to the policy trends of the United States with himself at the helm.
According to some opinion polls in the US, Trump is rated as the worst-performing new president in three decades, but this has not changed his supporters' firm belief in the promises he made on the campaign trail.
By frequently signing executive orders since he was sworn in as president, Trump has also revealed his own personal character traits, and his desire to be seen as vigorous, resolute, swift and straightforward.
Uncertainty had long been viewed as a dominant trait of Trump, but he has been decisive in his dealings with China since entering office, declaring it is not a currency manipulator and adopting policies that are conducive to the smooth and stable development of trade ties between the world's two largest economies, thus avoiding the undesirable repercussions for the global economy that had been widely anticipated.
Despite the existence of numerous uncertainties in relations between the US and China, as well as the US' broader international relations in the Trump era, there are always solutions to any uncertainties and problems if the parties involved work hard to ensure any differences do not spiral out of control. The core task of the better global governance regime that China advocates is to bring global issues, including restive ones, under control and create more benefits for the world.
Most Viewed in 24 Hours
China Views