China, S. Africa relations advance
Share - WeChat China, S. Africa relations advance Vice-premier's visit sees progress in science and health exchanges
Vice-Premier Liu Yandong's wide-ranging visit this week to South Africa made concrete progress in cooperation between the nations.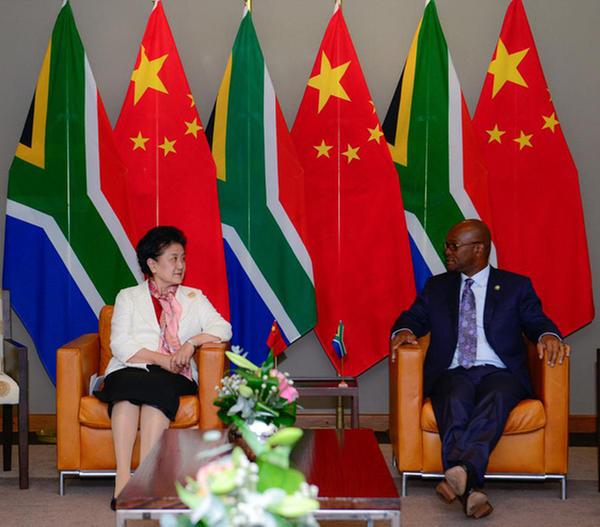 Vice-Premier Liu Yandong meets with South African Minister of Arts and Culture Nathi Mthethwa in Pretoria on Monday. They witnessed the signing of six cooperation agreements. [Photo/Xinhua]
She also helped strengthen their friendship, such as in her meeting with Zulu King Goodwill Zwelithini, chief of South Africa's Zulu nation, in Pretoria on Tuesday. Zwelithini has been well known for his role in promoting bilateral friendship.
The Zulu community has a long history of fighting colonial rule and seeking national independence, and their king is respected by many. Zwelithini has visited China several times, and became the head of the South Africa Zulu and China Culture Promotion Association in March.
Liu visited him at Steve Biko Academic Hospital in Pretoria, where he was getting a checkup.
Zwelithini said he anticipates further development of the friendship, adding that he will visit China soon to further experience the nation's charm and achievements.
Liu met with South African Foreign Minister Maite Nkoana-Mashabane on Tuesday, and they attended the China-South Africa High-level Dialogue.
On Monday, Liu attended the launch of the China-South Africa Science Park cooperation program. Liu noted the progress made by both sides from working together in such science and technology areas as biology, information, mining, lasers and new materials.
In December 2014, President Xi Jinping and his South African counterpart Jacob Zuma reached a consensus on science park cooperation.
During the first meeting of the China-South Africa High-level People to People Exchange Mechanism on Monday, science and technology were included as a key field of cooperation.
"Building a science park is an effective tool to develop the science and technology industry and to shore up sustainable development with technological innovation," Liu said. China is willing to share with South Africa its experience in planning, building and operating high-tech zones, she added.
Liu also attended the China-Africa Conference on Health Cooperation on Monday.
Documents signed at the conference include an agreement between China and Malawi on promoting maternal and infant health and pacts on hospital cooperation.
China's proposal to hold the ministerial-level conference aims at implementing the Forum on China-Africa Cooperation Johannesburg Summit in 2015 and making health a highlight of China-Africa cooperation, Liu said.
She said they should address the needs of both sides and promote the accessibility of medical and health services in Africa.
Goals include boosting disease prevention systems and capacity building in Africa, strengthening support groups, and promoting staff exchanges to benefit the public, Liu added.