Huawei program equips Kenyan youths with life-long skills
Share - WeChat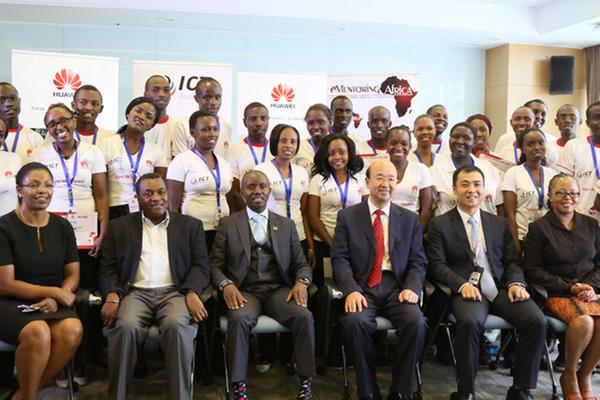 Young Kenyans graduate from the Huawei-sponsored Digital Skills for Life ceremony. From left Eunice Kariuki, director partnership, innovation and capacity; Victor Kyalo, PS ministry of ICT; Joe Mucheru CS Ministry of ICT; Liu Xianfa, China's ambassador to Kenya and Yu Dingpeng, the CEO of Huawei Technologies in Kenya. [Photo by Liu Hongjie/chinadaily.com.cn]
At least 30 underprivileged youths graduated Wednesday from a mentorship program in Kenya sponsored by Chinese technology company Huawei.
The $30,000 program, which included government and private enterprise partners, saw the graduates equipped with adequate skills in Information Communication Technology (ICT) to enable them to secure jobs or become entrepreneurs.
This gives them a head start in life. According to the Kenya Bureau of Statistics, in 2014 about 400,000 graduates entered a job market with only 103,000 formal job opportunities at the time. Moreover, about 40 percent of Kenyans of employable age do not have jobs.
"This program clearly demonstrates what partnership and collaboration between the government and private sector can do. These youths have been given a real chance of pursuing better life opportunities that will not only impact them but also build national productivity," said Joe Mucheru, cabinet secretary in the ICT Ministry.
He added that unemployment can be overwhelming to the government and the responsibility of empowering youth cannot be solely shouldered by the government. He expounded on the government's initiative of expanding the ICT national infrastructure to give equal opportunities to youth and women, both in urban and rural areas.
"Kenya is ardently working towards building Africa's Silicon Savannah and to achieve this, we need to rapidly build a skilled workforce," he said.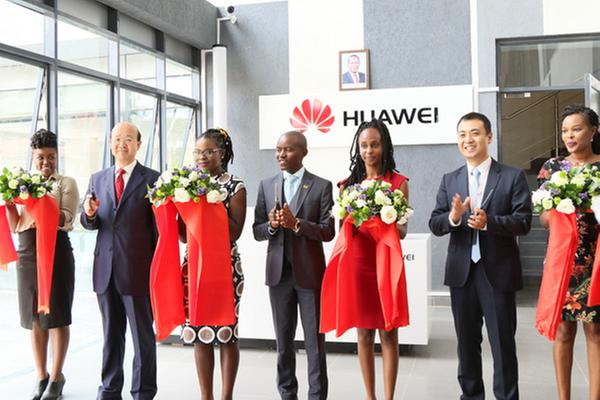 A ceremony marked the opening of the Huawei office building in Nairobi. [Photo by Liu Hongjie/chinadaily.com.cn]
Present during the ceremony was Victor Kyalo, the principal secretary at the ICT Ministry, Dean Yu, the chief executive of Huawei in Kenya, Eunice Kariuki, the director, partnerships, innovation and capacity in the ministry of ICT and Liu Xianfa, the Chinese ambassador to Kenya among others.
Noting the growing relationship between China and Kenya, Liu said despite an increase in the number of scholarships given to the east African country by the Chinese government, he was glad that private firms are lending a hand.
"China is keen on bridging the digital gap in Africa and it is good to see that our private firms are participating in building young people's capacity."
Yu said the company has transformed Kenya's technology landscape over the last 19 years and going forward, its business can only be sustainable if more people are IT literate.
"We will continually invest in these programs to ensure more Kenyans are able to use technology to enrich their lives," Yu said.
The event took place in Huawei's new business complex, about half an hour from downtown Nairobi.