Hard choices needed for Africa's industrialization
Share - WeChat African governments need to develop and implement bold and innovative policies for the continent to achieve its industrialization ambitions. Leading economists meeting during the 10th annual meeting of economic experts and finance ministers organized by the African Union and Economic Commission of Africa in Dakar, Senegal agreed that to reverse the current poor performance, stronger commitments have to be made.
According to the pundits, Africa is de-industrializing, a process only witnessed in developed economies where technology is replacing a dwindling labor force. The contribution of Africa's manufacturing sector to the continent's gross domestic product actually declined from 12 percent in 1980 to 11 percent in 2013, where it has remained stagnant over the past few years, according to the ECA.
This comes against the backdrop of a rapidly expanding population, of which youths account for about 70 percent. Rising unemployment levels have fed into increasing insecurity and international terrorism while also straining governments' limited resources.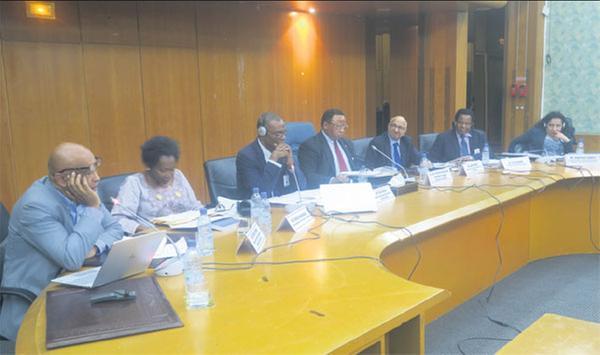 ECONOMISTS hold a discussion at the ECA Africa Development Week in Dakar, Senegal, in March. Lucy Morangi / China Daily
To reverse this emerging trend, economists are concerned about how to accelerate industrialization and earn dividends from urbanization in a sustainable and all-inclusive economy.
Peter Thomson, president of the United Nations General Assembly, urges Africa to develop a smart, innovative and integrated approach to drive economic transformation and secure sustainable growth needed to eradicate poverty, build infrastructure and support industrialization.
This is in spite of compounding challenges facing the continent. "With many African economies largely reliant on natural resource exports, economic prospects are highly susceptible to external shocks, including price volatility and falling global demand," says Thomson.
Broader global challenges add to this economic vulnerability, he says. "This includes peace and security threats, humanitarian crises, rising terrorism and violent extremism, the large-scale movements of people, population growth, expanding inequality, environmental degradation, extreme weather events and the destructive impacts of climate change," Thomson adds.
Governments therefore need to adopt a more proactive stance as they look to emulate successful models that have worked elsewhere.
In Zimbabwe, the government is putting more emphasis on capacity building. According to Desire Sibanda, the permanent secretary in the ministry of macro-economic planning and investment promotions in Zimbabwe, more projects need to be scaled up to attract foreign investments, and professionals with good negotiation skills are needed, too.
"For Africa to improve its global standings, its capacity must be improved to sharpen its negotiation skills to yield beneficial agreements and discourage exports of raw materials while implementing policies that encourage value addition and, above all, promote research and innovation," he says.
Sibanda also urges governments to move away from financing recurrent expenditure using foreign capital and instead direct it to development of critical infrastructure.
Maria Kiwanuka, the senior adviser to the president of Uganda, says Africa discourse should revolve around infrastructure, innovation, institutions and industrialization. Governments should look at how these sectors can support the labor intensive sectors such as mining and agriculture, she says.
"Infrastructure should be viewed as an industry, as a value chain that should be improved both forward and backward. A cost-benefit analysis should be carried out and benefits should be quantified to justify costs," says the economist, who strongly advocates that government departments be run as private entities where job evaluations are done and underachievers are declared redundant.
She advises governments to strongly support the private sector, since it is the safest avenue for rapid absorption of innovation and technology and possesses a high level of capacity. "The private sector also leverages on productivity, and thus it is the best bet for governments to achieve their modernization ambitions."
She says Africa's industrialization has stagnated because private sectors have been unable to jump higher into the global value chains due to poor linkages. She called for a bigger government presence in private entities. saying government muscle might help them expand rapidly by capitalizing their expansion bids or mergers with other established global entities.
Frederick Musiiwa Makamure, the president of the United Nations Economic and Social Council, says Africa needs to leverage its latecomer status by identifying its comparative advantages. "We have the biggest arable land in the world, and thus we need more investments channeled toward food production and manufacturing. A sub-sector such as palm oil has become valuable with the transformation toward green economies by regional blocs such as the European Union. There are great opportunities available if only governments fasttrack their development programs," he says.
lucymorangi@chinadaily.com.cn