Future looks bright
Share - WeChat Chinese manufacturers of solar products hope to tap into the huge potential of African market
Chinese solar products manufacturers are targeting the lucrative African solar market, especially rural areas, where families rely on kerosene lamps that provide dim light but are expensive, unsafe and unhealthy.
In many African countries, less than 20 percent of the population has access to electricity, with the situation much worse in rural areas, where less than 5 percent are connected to the grid.
This is despite Africa having an average of 325 days of sunlight each year, making solar power, though potentially abundant, one of the continent's most scarcely used resources. It is this very opportunity that Chinese solar products manufacturers are eyeing.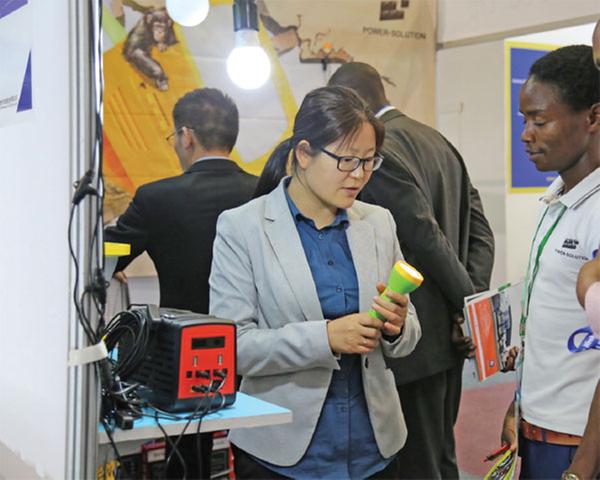 SUSAN LEE (left), vice-president of Shenzhen Power-Solutions Ind Co, shows customers her company's solar torch, at the 6th Power and Energy Africa exhibition held in Nairobi, Kenya on April 11-13. Edith Mutethya / China Daily
During the sixth Power and Energy Africa exhibition in Nairobi, Kenya, on April 11 to 13, about 30 Chinese solar product manufacturers participated. The companies expressed their interest in the market, seeing it as huge and unexploited.
Susan Lee, vice-president of Shenzhen Power-Solution Ind Co, a Guangdong province-based manufacturer of solar lighting products, says the African solar market is lucrative because most of the homes are off-grid, relying on kerosene and candles.
"We manufacture low-cost solar lighting systems targeting rural Africa. We want to replace all the candles and kerosene lamps. Two months' kerosene cost can be enough to buy a solar product that will last for two years," she says.
Lee's company has so far signed an agreement with five dealers and two NGOs that are focusing on replacing candles with solar lighting systems.
"We don't wish to have so many dealers, to avoid the products becoming too expensive. We also plan to set up an office in Kenya in 2018 and, later on, a factory, focusing on the manufacture of solar lighting spare parts like batteries, solar panels and cables," she says. "We also look forward to setting up another factory to recycle materials including batteries and plastics."
During the exhibition, her company signed three deals for a total of 50 units of solar lighting systems.
"Solar lighting systems are affordable and cheap to run. Children can also study at night, thus improving their academic performance. The systems can also charge mobile phones," she says.
Focusing on the same market is Yuyao Enflower Co, which is based in Zhejiang province and specializes in the design, production and sales of solar appliance and lighting products.
General Manager Richard Zhang says the company will focus on quality and affordability to penetrate the African market.
"After doing a market survey about solar products being sold in Africa, we realized that some companies had compromised on quality as well as lying on the specifications of their products, like the number of watts. We decided to provide quality products at affordable prices," he says.
The company is already selling its products in Uganda. Plans are underway to open a distribution branch in Kenya within the next two months, after which the company anticipates selling at least 100,000 units of solar lighting systems in the East African country within a year.
Jiangsu Sunllent Electrical Equipment Co, a solar power system manufacturing company, is also eyeing the potentially lucrative sector. Sunllent mostly focuses on high-end products like photovoltaic and wind power products, solar home systems and solar inverters.
Kevin Kiplagat, the company's Africa marketing manager, says the plan is to recruit distributors as well as focus on e-commerce to penetrate the African market. He says high-end solar products are mostly viable for industrial use and have not yet penetrated the African market to the extent of low-end lighting systems.
Kiplagat is optimistic, however, that the market offers much potential. "With high outages in Africa, we foresee increased uptake of our products," which he says can save companies much money lost to power blackouts.
The company is already popular in Zambia, where it has been operating since 2015. It hopes to replicate its success in Kenya and then the East African region.
edithmutethya@chinadaily.com.cn