Healing in the traditional way
Share - WeChat While lecturing on traditional Chinese medicine during a speaking tour of Thailand, Malaysia and the United States in 1999, Doctor Zhao Weijie met a Kenyan who persuaded her to open a TCM clinic in the East African country. She was told that clinics in the country were inadequate and many people, especially those suffering from chronic diseases, were in distress.
While Zhao had little knowledge of Kenya, she didn't hesitate to take her expertise to Africa. Today, she is not only popular but also a happy and fulfilled doctor because her work has given hope to once-desperate patients.
Among them is Kenneth Kemboi, a diabetes patient, who visited the clinic after suffering for a long time.
"After a check up, Zhao advised me on what to do and what to avoid during my treatment with Chinese herbs and acupuncture. Though the treatment took eight months, I don't regret it, and I can recommend anyone who has diabetes, or any ailment, to visit a TCM clinic," he says.
Maryanne Kwamboka could not conceive, even after consulting several gynecologists and undergoing in-vitro fertilization.
"When I visited Zhao, I was reluctant because I thought I would have to go for more tests and IVF. Luckily, she used Chinese diagnostic techniques and told me exactly what my problem was. She recommended herbs and acupuncture. Today, I'm the mother of a baby girl," she says.
Nabulobi, a throat cancer patient from Uganda, says he was completely healed after more than a year's treatment by Zhao.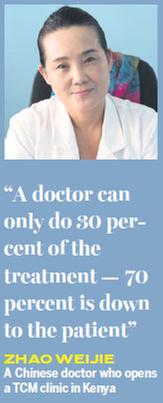 "I started my treatment in 2008. At that time, I was desperate and losing hope after attending several hospitals in Uganda without success. A Kenyan friend recommended Zhao to me. At first I was hesitant, but she convinced me to meet the doctor. Today, I'm free of cancer," he says.
Waruna Senavirathna, from Sri Lanka, visited the clinic with catarrh, nose bleeding and persistent sneezing, which he experienced after waking up. He had lived with the problem from a young age.
"When I was recommended to visit Zhao, I was very skeptical because I had visited many hospitals without help. When I arrived in her clinic, the doctor just held my hand and told me everything about my health problems. I was so shocked by her ability to diagnose me correctly by simply listening to my pulse," he says.
With acupuncture treatment and Chinese medicine, Senavirathna says, the bleeding stopped in three days and he can now sleep peacefully.
"Zhao has changed my life and given me hope and health," he says.
Over the last 30 years, Zhao has treated thousands of patients with serious illnesses such as rheumatism, asthma, diabetes, gynecological problems, heart disease, infertility, obesity, hypertension, stomach ulcers, impotence and STDs.
The cost of her treatment depends on the severity of the disease and the duration of the treatment.
"If a patient follows the suggestions, he will be healed. First, I let people heal the heart by themselves. Second, I tell them to exercise, and third, I give them nutritional advice. If the patient is willing to follow these instructions, he or she will be healed. A doctor can only do 30 percent of the treatment - 70 percent is down to the patient," she says.
Zhao refutes claims by some Western critics who say that, since efficacy and toxicity testing in TCM are based on traditional knowledge rather than laboratory analysis, it is potentially harmful.
"TCM is effective and my patients can attest to that. The fact that it has been practiced for thousands of years in China and also is embraced across the globe is testimony that it's effective," she says.
Zhao practices ancient techniques that have been passed down through seven generations of traditional doctors in her family. One of her ancestors was the personal physician to the last emperor of the Ming Dynasty in China. Both her father and grandfather were renowned traditional doctors.
She is a much sought-after speaker on meditation techniques that promote a healthy mind.
She is also an artist. Among her many talents, she is a painter, calligrapher and sculptor. She freely gives the artworks to her patients.
edithmutethya@chinadaily.com.cn