Volunteers break barriers
Share - WeChat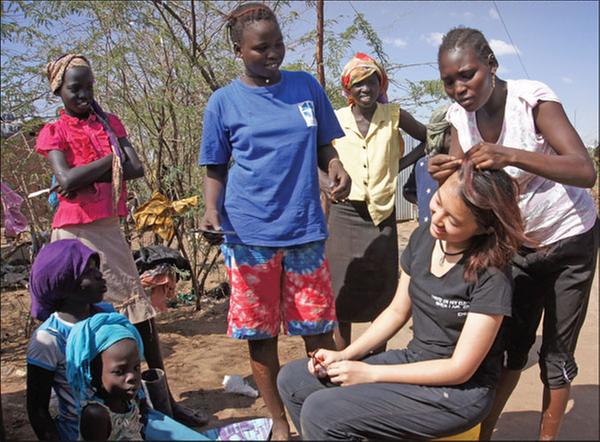 Zhang Chi enjoys a makeover in Kakuma, the largest refugee camp in Kenya. Photo Provided to China Daily
A growing number of young kindhearted Chinese are visiting Africa as unpaid workers, engaging with people from countries across the continent
In 2014, a friend told Yin Binbin about the bleak lives of the residents of Mathare, a slum area in Nairobi, the capital of Kenya. As he listened, an idea occurred to Yin, then a sophomore at Shandong University in East China: He would volunteer to work in a school in the ghetto.
He never expected that his idea would bind him and children of the slums together for a prolonged period.
However, in the past three years, Yin and his peers, mostly college students, have raised more than 300,000 yuan ($43,570; 40,880 euros; £34,790) to rebuild two primary schools in Mathare. In addition, a "free lunch" program they launched with a Chinese NGO has helped more than 1,100 children in the poverty-stricken area, which has a population of about 500,000.
Despite China's growing economic presence in Africa, there has been a lack of engagement between the general public and their counterparts on the continent, according to experts. Now, young Chinese such as Yin are endeavoring to change the situation.
Despite his early enthusiasm, Yin was shocked by the terrible conditions at the Light Center primary school in Mathare. About 300 students were crowded into a stuffy, somber shed of no more than 180 square meters. There was no electric light, so Yin tried to reflect sunshine into the classroom by filling transparent bottles with water and placing them in a hole in the roof. The experiment failed, so the volunteers used the flashlights on their smartphones to help the students see what had been written on the blackboard.
The worst time every day was when the teachers cooked, because the shed, which was made from rusty sheets of iron, would be engulfed by smoke, making the children's eyes sting.
Transformation
Depressed by the conditions, Yin, who was majoring in architecture, decided to transform the ramshackle school. With the help of social media, he and three other Chinese students raised 70,000 yuan in a week. They used the money to redesign the building. They purchased construction materials, guided workers with limited construction experience and built a new school.
The new facility won acclaim from the local community, and when someone asked Yin why he hadn't made school renovation a long-term project, he decided to launch the Dream Building Service Association.
The association raised a further 270,000 yuan and rebuilt a second school in 2015. Last month, it partnered with Deng Fei, who started the Free Lunches for Children in Rural China program, to provide meals for 1,103 students in five schools in the slum. They plan to expand the project to other schools in Mathare.
As well as building schools, the association has organized talent shows, art exhibitions and soccer tournaments to enrich the children's lives. Last year, a soccer tournament attracted 600 students from 20 schools, and more than 1,000 children displayed their works of art at an exhibition organized by the association, which is attracting a growing number of Chinese volunteers.