Kenya and China strengthen partnership, in fight against malaria
Share - WeChat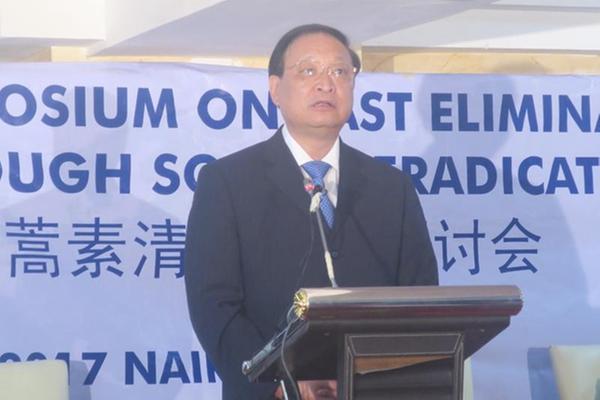 Wang Guoqiang, the vice director of National Health and Family Planning Commission of China, addresses the one-day symposium, discussing the fast elimination of malaria through a source eradication strategy. [Photo/chinadaily.com.cn]
Kenya, a country in Africa, is set to strengthen ties with China, entering into a partnership to radicalize a cost-effective strategy in fighting and eliminating malaria.
Representatives of the East African country hoped to emulate the success of the Comoros, a sovereign archipelago island nation, which has drastically cut the malaria infection by up to 90 percent within the past two years. The national result was achieved with the help of the Guangzhou University of Chinese Medicine, who assisted to administer malaria medication and strengthen surveillance systems to monitor infections.
A one day seminar, under the theme of China-Africa symposium on the fast elimination of malaria through the source of eradication, was held in Nairobi on Friday. Lessons and experiences from Togo and Malawi were also shared.
The cabinet minister of health in Kenya, Cleopa Mailu, said Kenya was "keen to replicate the success witnessed in Comoros."
"The strategy is tested and proven, and we will be happy to replicate the good practices countrywide. A partnership with China is a viable option," he said.
The Vice Director of National Health and Planning commission of China, and director of state administration of traditional Chinese medicine, Wang Guoqianq, was joined by the director of the traditional Chinese Medicine Bureau of Guangdong province in China, Xu Qingfeng, and Liu Xianfa, the ambassador of China in Kenya, at the event.
Representatives discussed how Kenya was strongly pushing to eliminate the deadly parasitic disease, easing the burden on the economy. In 2010, 30 percent of outpatient visits in hospitals were attributed to malaria. However, the percentage amount has since dropped to 11 percent.
Areas around Lake Victoria have also had a prevalence of 27 percent, equating 27 people out of every 1,000 tested to be found to have the parasite.
Mailu confirmed the project, implementing the country's malaria strategy, would cost up to $150 million, but added the ministry only received about 7 percent of national budget allocation.
"We have been able to control the vector bone disease; but it is time to eradicate it," he said.
The prevention strategies, which have been used in Kenya, include a wide distribution of long lasting mosquito nets, indoor residual spray and public awareness, urging prompt medical care at the onset of symptoms. The use of Artemisinin Combination Therapy (ACT) was also adopted as first-line of treatment in 2006.
"We are keen to explore all available, effective strategies which adhere to the WHO accepted regulations to fight Malaria," Mailu said.
"We will engage and support any strategy which would help us towards attaining its eradication."
At the event, Wang – the Vice Director of National Health and Planning commission of China and director of state administration of traditional Chinese medicine – acknowledged the significant role artemisinin had played in the global fight against malaria, after being discovered 50-years ago by a Chinese professor, Tu Youyou. Wang said traditional Chinese medicine continued to play a unique role in curing acute communicable diseases, facilitate access to medical services, reduce medical costs, and establish affordable and sustainable medical care systems in African countries.
"It has always been one of our priorities in the process of internationalization of traditional Chinese medicine, continuously communicating and collaborating with African countries in the field of traditional medicine," he said.
Wang noted the global community had earmarked the total elimination of the disease by 2030.
"In the process, China is willing to fulfill its international responsibilities and work together with African countries, developing a quicker and more cost-effective plan in the process of realizing the Belt and Road initiative, as well as helping Africans get rid of Malaria," he said.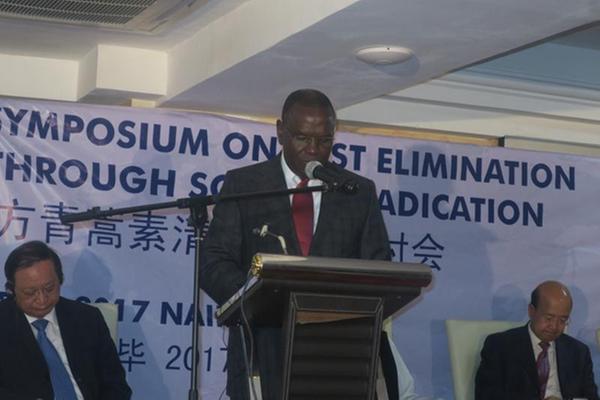 Dr. Cleopa Mailu, the cabinet minister of health in Kenya, addresses the one-day symposium. [Photo/chinadaily.com.cn]