Greece is ready to seek sustainable growth
Share - WeChat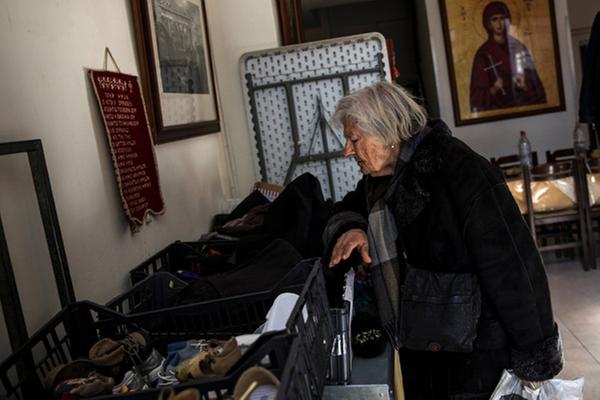 An elderly woman searches through donated clothes at a soup kitchen run by the Orthodox church in Athens, Greece, February 15, 2017. [Photo/Agencies]
Compared with other European countries, Greece has attracted a lot of headlines in recent years.
Most of the stories have featured one of three subjects: prolonged negotiations with international creditors about a financial bailout; frequent elections; or the nation's privatization process.
Since 2010, when my European posting began, those stories have taken up a great deal of my energy. They have centered on whether Greece will be able to stay afloat in the face of possible bankruptcy resulting from a severe crisis of sovereignty and austerity programs.
Amid the United Kingdom's triggering of negotiations ahead of leaving the European Union, Grexit (Greek exit) is no longer a threat, despite the fragility of the economy.
Some Greeks are dissatisfied with belt-tightening reforms, while others remain wary of structural reform.
Though data suggest that Greece has emerged from several years of recession, it will still be difficult for the country to embark on a new economic cycle. That's mainly because its miserable business climate has failed to inspire confidence among global investors.
What impressed me most during interviews I conducted in the country last month was that people were discussing the national strategy of positioning Greece as a center for regional shipping, logistics and even energy.
It plans to do that by taking advantage of the fact that its southern boundaries are on the Mediterranean Sea and its northern regions lead to Eastern and Central Europe.
The strategy accords with the Belt and Road Initiative because both are focused on increasing connectivity and the flow of goods, and other productive elements.
The opinion makers I met even urged Greece's political parties to take a concerted stance on the national strategy to ensure the implementation process will not be disrupted by political rivalry.
Surely, this is the most encouraging message: The Greeks are ready to say goodbye to a decade-long crisis management phase and debate the transition to exploring sustainable growth.
The country has a population of around 11 million. In Europe, there is a long list of countries with similar populations that have achieved higher levels of development.
Greece shares similarities with Belgium, the Netherlands and Germany; its ports are developing logistics and it has an economic corridor leading to the heart of Europe.
It also enjoys greater geographical advantages than landlocked Switzerland, an innovation giant and one of the world's richest countries.
Either way, Greece has a tremendous opportunity to become a power in Europe.
Harnessing such power will require an additional shaping of the long-term and visionary development consensus among Greeks.
At the same time, the European Union should support Greece as the country explores its potential and becomes a new economic engine in Europe, rather than just monitoring its bailout and privatization programs, and expressing concerns about its impact on other port countries.
As a conduit between Europe, Asia and Africa, Athens enjoys a good geopolitical position.
However, the key to whether that advantage can be exploited lies in how the Greek leadership turns opportunity into action and how well the European Union supports developments.
Most Viewed in 24 Hours
China Views