Time to ramp up China's soft power
Share - WeChat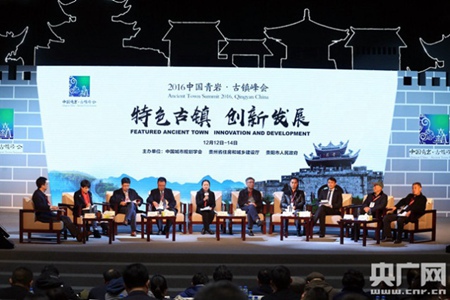 A round table meet is held at the Ancient Town Summit 2016 in Guiyang on Dec 13. [Photo/xinhuanet.com]
China has already achieved better soft power success at home than before. Recently I attended the Qingyan Ancient Town Summit in Guiyang, Guizhou province. Progress in building attractions such as ancient towns is accelerating and China Development Bank even funds financially sound proposals.
Although we don't think of the Forbidden City as an ancient town, it is the granddaddy of them all, and among the world's most visited museums. Its dynamic director Shan Qixiang spoke about his successful efforts to make it more authentic, user-friendly, accessible and profitable.
Shan and Chinese Minister of Culture Luo Shugang announced on December 23 that a massive branch of the Forbidden City, Palace Museum, to give it its formal name, will be built in Hong Kong to promote Chinese culture through exhibitions, digital presentations, lectures and profitable merchandising.
These efforts, however, are not enough. China's soft power, winning heart and minds, has to be projected well beyond its borders. Palace Museum annexes and smaller Chinese Culture Centers should be built in other world cities just as the Guggenheim Museum has established numerous far-flung iconic branches. And as I've written before, Beijing should reciprocate by establishing a Museum City, perhaps in the Olympic area, cooperating with the world's best museums to solidify partnerships with them to further showcase China's rich culture at home and abroad.
With China investing in so many Hollywood studios, and building state-of-the-art production bases such as Wanda's $8 billion Qingdao Movie Metropolis with its 30 sound stages and 40 percent budget rebates, films with Chinese actors and Chinese themes, together with Hollywood knowhow, will gradually gain increasing success in world film markets.
One underexploited area is the Confucius Institute/Classroom network of hundreds of centers and classrooms globally. These function primarily as Chinese language learning centers but their model is flawed. Since participating students obviously have an interest in China, they generally haven't been afforded cultural enrichment or the opportunity to interact with Chinese of similar age and interests. With technology, this is so easy to do and is a gigantic missed opportunity to build lifelong bridges.
Tencent's WeChat and its 1.1 billion users at home and abroad is the perfect tool for Chinese and foreign youngsters and teenagers to get to know about each other and each other's cultures. They needn't even know a language in common given WeChat's competent translation software.
Few foreigners even know China's rich and glorious history beyond perhaps its invention of fireworks and paper. But Cambridge Professor Joseph Needham's voluminous Science and Civilization in China catalogues hundreds of Chinese inventions not "discovered" in the west until hundreds of years later.
And few know about the voyages of Ming Dynasty Admiral Zheng He, who led his state-of-the-art ships on treasure voyages across 30 countries in Asia and Africa, and some say as far away as Australia and the Americas. According to Marco Polo, Zheng 's treasure ships were mammoth with nine masts and four decks, capable of accommodating more than 500 passengers, as well as a massive amount of cargo. Their purpose: to project Chinese power and wealth to the outside world.
So why not create a floating museum ship calling at 21st century Maritime Silk Road ports among others. Imagine what an impression such a dramatic floating cultural center, high tech museum and massive ship would make. Imagine how many friends young and old would be inspired by it, awed by it, and have an indelible memory etched in their minds by it, and of the country that was master of the seas so many centuries ago.
More needs to be done along these lines to take the high road to reintroduce the world to China's past and future glories.
The author is a senior featured contributor of China Daily website.
Most Viewed in 24 Hours
China Views