Confucius Institute celebrates achievers
Share - WeChat The Confucius Institute US Center (CIUS Center) held its first national gala on Sept 24 in Washington to honor the achievements of 10 individuals from Confucius Institute (CI) communities across America.
The Confucius Institute, established by the Chinese Ministry of Education in foreign countries, something similar to the UK's British Council or Germany's Goethe Institute, promotes Chinese language and cultural learning worldwide.
"Never have I found myself surrounded by people who I couldn't verbally understand, but wholeheartedly felt a connection towards," says honoree David Cole, a senior at the University of Kentucky, who was sent by the university's Confucius Institute to three Chinese cities as part of a study program.
Jonathan Marek, a senior at Whitney M. Young Magnet High School in Chicago, who has studied Chinese since third grade, said that "living in China - eating the foods, walking the streets, watching the shows, and seeing the people - gave me a new perspective on learning the language".
Marek spent a month in Hangzhou, the host city for the recent G20 Summit, through a program hosted by the Confucius Institute in Chicago and Wanxiang America, the US subsidiary of a leading Chinese auto-parts maker.
"Cultural understanding is key for a successful partnership," said keynote speaker C.D. Mote, president of the US National Academy of Engineering. When Mote was the president of University of Maryland at College Park, he spearheaded the CI initiative with the Chinese Ministry of Education and helped to establish the first Confucius Institute at the university in 2004.
Mote stressed that achieving sustainability of the CI program requires support and effective communication among the Confucius Institute headquarters in China, Confucius Institute in each university, and the greater community around that institute.
"We need to learn how to work better together, and the Confucius Institute community is where it starts," said Morgan Jones, chief operating officer of the US-China Strong Foundation, a non-profit organization first established by the US State Department to send American students to study aboard in China. Jones was a Chinese-language radio show host for three years and met his Chinese wife while living in China.
Tony Cully-Foster, president and CEO of the World Affairs Council in Washington, calls US-China relations the most important in the 21st century and defines Confucius Institute as a truly global education initiative.
"Mutual respect for individual differences is at the heart of democracy and understanding," he said.
Timothy Brown, a 12-year-old from Silver Spring, Maryland, is the youngest among the 10 students honored. His keynote speech at the gala received a standing ovation.
Brown first became interested in Chinese culture when he began taking martial arts classes. He currently attends Chinese classes offered by the Confucius Institute at the University of Maryland, where he also actively participates in extracurricular activities such as language competitions, kung fu, and Chinese music (he sings in Chinese).
"We're very thankful for the Confucius Institute. As one of the most spoken languages in the world, Chinese is important, and with globalization, there's a reason why we should prepare those responsible for the next generation," said Brown's family, who occupied almost one table.
Although Brown has not settled with what he wants to do with his ability in Chinese language and culture, some awardees already made up their minds, including Jenifer Guevara from Texas Southern University.
"I want to teach kids Chinese," said Guevara. She noticed there are Chinese immersion programs being established in elementary schools around Houston and wants to be part of the first group of instructors.
Sophia Wu in Washington contributed to the story.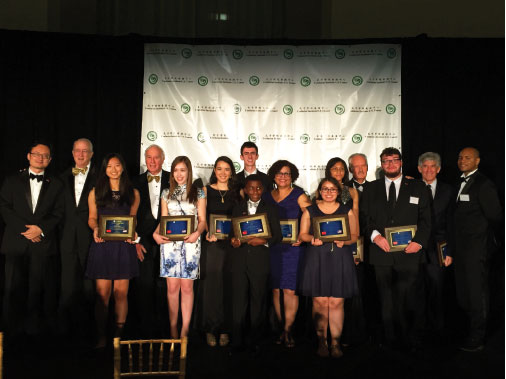 Confucius Institute US Center present People to People Exchange Award to ten students from Confucius Institutes in the US nationwide for their achievement and contribution in learning Chinese language and culture during the center's inaugural National Honors Gala in Washington on September 24. Presenting the awards are Gao Qing (left), executive director of the center; William Reeder (second from left), professor of arts management and former dean of the College of Visual and Performing Arts at George Mason University; C.D. Mote (fourth from left), president of US National Academy of Engineering and former president of University of Maryland at College Park; Tony Culley-Foster (fourth from right), president and CEO of World Affairs Council-Washington, DC; and Morgan Jones (right), chief operation officer of US-China Strong Foundation. The ten awardees from left are Sabrina Tran, Rachel Lietzow, Olivia O'Dwyer, Jonathon Marek, Timothy Brown, Monica Rhodes, Jenifer Guevara, Deja Watkins, David Cole, and Dennis Delehanty. Charlene Cai / China Daily
(China Daily USA 09/27/2016 page2)
Today's Top News
Editor's picks
Most Viewed