Trump's willingness to talk to the DPRK is the right approach
Share - WeChat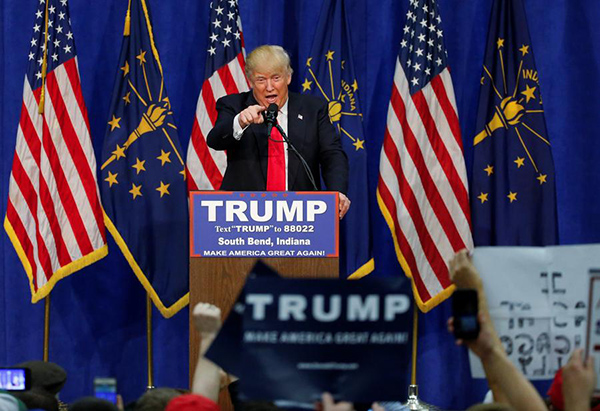 US Republican presidential candidate Donald Trump speaks during a campaign rally at the Century Center in South Bend, Indiana, US, May 2, 2016. [Photo/Agencies]
US Republican presumptive presidential candidate Donald Trump has run a campaign rife with political incorrectness. And on Tuesday, Trump said he would be willing to talk to Democratic People's Republic of Korea leader King Jong-un.
"I would speak to him, I would have no problem speaking to him," Trump told Reuters, adding that he would "absolutely" try to talk some sense into the DPRK leader.
With the US government now refusing to engage directly with the DPRK, Trump's words have made major headlines in the United States. His Democratic rival, Hillary Clinton, a former secretary of state, clearly disapproved.
China's Foreign Ministry has generally remained cool in the face of the frequent outrageous rhetoric regarding China by US presidential candidates. But spokesman Hong Lei, when asked to comment on Trump's words, said on Wednesday that China supports direct talks and communication between the US and the DPRK. "We believe this is beneficial," he said.
China has been long pushing for a direct engagement between Washington and Pyongyang to defuse the growing tension on the Korean Peninsula.
The Obama administration has won praise for engaging Iran and Cuba in the past few years. But Obama has not taken the same approach with the DPRK.
In February, State Department spokesman John Kirby confirmed that the US rejected the DPRK's proposal to discuss a peace treaty to replace the 1953 Armistice agreement, citing the DPRK's lack of sincerity in dropping its nuclear program.
Instead, the US has increasingly relied on economic sanctions and shows of force, such as its frequent military drills with the Republic of Korea aimed at the DPRK, something that further justifies the DPRK's concerns for its own national security.
Most Viewed in 24 Hours
China Views