Developers sign logistics deal with Cote d'Ivoire
A major Chinese construction company has agreed a deal with Cote d'Ivoire to build 13 agricultural products logistics centers.
China Tiesiju Civil Engineering Group Co will construct centers in 11 regions in the West African nation, covering a combined area of 57,000 square meters.
The deal, which also includes building homes for local farmers, is worth 330 million yuan ($53 million).
CTCE will work in partnership with Fenascovici and International Queen, two "highly-qualified local companies", Adama Dosso, Cote d'Ivoire's ambassador to China, says.
He says the projects will help promote friendship between the two countries, and adds that he hopes the partners can lay a solid foundation for further collaboration in infrastructure construction in the country.
Dosso was speaking at a signing ceremony in Hefei, Anhui province, where CTCE is headquartered.
Agriculture is a pillar industry in Cote d'Ivoire, which is among the world's largest producers and exporters of coffee, cocoa beans and palm oil.
The proposed logistics centers are expected to play an important role in promoting the distribution of the country's agricultural products, according to Shao Gang, CTCE's deputy general manger for overseas business.
As a subsidiary of the state-owned China Railway Group, CTCE was at first focused on building railways in China and abroad. Later, its business diversified to include real estate, roads, water conservancy and irrigation projects.
The company has constructed more than 100 major projects in more than 20 countries, mostly in Africa, South America and Asia.
With Africa's growing need for better infrastructure, CTCE has seen a surge in its business dealings on the continent. The company last year completed the first phase of an $855 million Angolan welfare housing project, which involved building 9,808 homes.
CTCE data show the company had an annual operation revenue of more than 58 billion yuan last year.
zhulixin@chinadaily.com.cn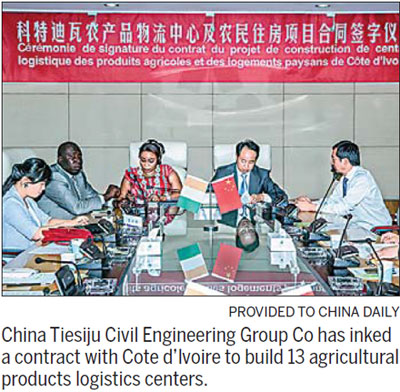 (China Daily Africa Weekly 06/19/2015 page19)
Today's Top News
Editor's picks
Most Viewed