Naspers, Tencent aim for synergies
Share - WeChat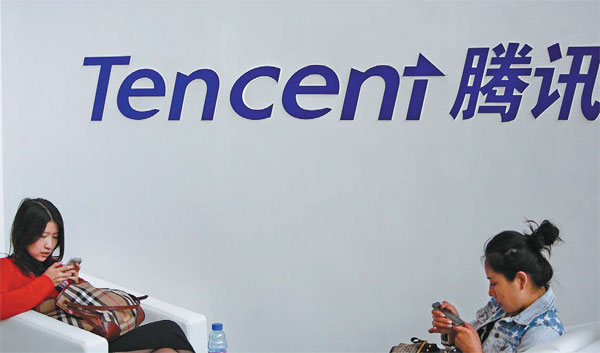 Visitors use smartphones at the Global Mobile Internet Conference in Beijing on May 6. Kim Kyung-Hoon / Reuters
South african media giant adopted hands-off approach to let chinese start-up grow
China may well continue to hold by far the upper hand in Sino-African investments but arguably the most spectacular exception to that rule remains the backing by one South African media multinational in a then-risky Chinese tech start-up back in 2001.
Naspers Ltd, the Cape Town-based multinational group of media and e-commerce platforms, is seen as very much the brainchild of one man - Jacobus Petrus Bekker, better known as Koos Bekker, founder.
The group's principal operations are in Internet sites (focusing on commerce, communities, content, communication and games), pay-television and the provision of related technologies, and print.
Bekker led the founding team of M-Net in 1985, which resulted in pay TV operations today spanning 48 countries in Africa.
In the early 1990s MTN was launched together with partners. Bekker served as CEO of the MIH group until 1997, when he took over at Naspers.
The group moved strongly into the Internet and today it has a presence in Eastern Europe, Latin America, India, Russia, and it also leads in pay TV in Africa.
Incorporated in 1915 as a public limited liability company, Naspers listed on the Johannesburg Stock Exchange in September 1994. The company also has an American Depositary Receipt listing on the London Stock Exchange.
But Bekker's biggest move came in 2001, when he took what many people would have viewed as a major gamble when he invested $32 million to get a 46.5 percent stake in a little-known and loss-making Chinese company, Tencent
Now over a decade later, Tencent is one of the largest Internet companies in Asia and Naspers' stake in Tencent is said by some analysts to be worth about 1,500 times more than the investment Bekker initially injected into the company.
Tencent operates QQ, ubiquitous in China as an instant messaging platform.
As a consequence of Tencent's listing in Hong Kong in 2004, Naspers' shareholding was diluted to 35 percent.
Bekker remains on the Tencent board, just as Pony Ma, Tencent's iconic chairman and CEO, retains also his seat on the Naspers board.
Tencent also owns Weixin, called WeChat in English - the mobile text and voice messaging communication service, and it has now become the game changer for both Tencent and Naspers, reeling in the money.
Some analysts estimate that Naspers' 35 percent accounts for as much as 80 percent of its revenues.
Naspers' overall asset stature, however, is a maze of subsidiaries, affiliates and branches.
They range from MIH, the company's global internet and technology business with a footprint in virtually all continents, to the pay TV Multichoice, also the most established on the continent, and Media 24, its struggling news media arm.
However, it is the Internet, and specifically the Tencent shareholding, that contributes most significantly to the company's 500 billion rand ($45 billion) profit, according to a statement by the company released in February.
In March, the Johannesburg-listed company announced a 46 percent rise in its Internet-based earnings mainly based on the performance of its Chinese investment, and to a lesser extent its interests in Russia's Mail.ru group.
Ann Crotty, of the Sunday Times in South Africa, says its financial statements suggest that Naspers is expected to earn 793 million rand from Tencent this year, up from 2013's 510 million rand.
Speculation has been rife that the reduction in Naspers' Tencent holding was the result of discomfort by the Chinese authorities with a foreign company owning such a huge stake in a popular Chinese media company.
But many others suggest the decision was just good business, pure and simple.
The Naspers-Tencent link goes beyond the holding company.
It has been suggested that Tencent is using Naspers' Cape Town base as the springboard for continued expansion of WeChat into Africa, which is being targeted squarely at competing with Facebook's WhatsApp.
Experts suggest that the strategic relation between Naspers and Tencent could see innovations that have worked for Naspers in Africa - pay TV, for instance - being introduced in China, and that those gaining traction in China, such as online gaming and e-commerce, could appear in the other direction.
Such synergies might become vital, as rivals to both companies continue their onslaught against them, jealous of the shares they hold in their respective markets.
A fact little trumpeted is that Naspers also holds a 9.9 per cent stake in Beijing Media Corporation, the publishers of a host of newspapers, of which Beijing Youth Daily is the largest.
The company also has interests in Xin An Media, a publishing company based in China's Anhui province.
Naspers' Chinese interests could explain the presence on its board of Ma Yuanhe, a former official at China's State Administration of Radio Film and Television, the media industry regulator.
One of the best accounts yet of the Chinese dimensions to Bekker and Naspers is by the University of Witwatersrand journalism professor Anton Harber.
Johannesburg-based Harber says Naspers' initial solo entry into China caused it to write off $80 million, after taking huge losses for a number of years.
One former Naspers executive, Antoine Roux, suggested to the Washington Post that the company had actually burned nearer $100 million in its initial "foolhardy" China bid.
Insiders have suggested that Naspers had decided to enter the Chinese market with a Western mindset, but that the approach inevitably backfired.
Harber quotes Bekker admitting that they were "victims of our own stupidity".
Having learned a painful lesson not to foist its South African or Western media model in attempting to have a bite of the lucrative Chinese market, Bekker then elected to use a more local approach.
"As they were bailing out of China a small opportunity raised its head, in the form of Tencent," wrote Harber.
He suggests, too, that in the early stages of Naspers' near-49 percent investment in Tencent, executives assumed a hands-off approach, to let the "local entrepreneurs grow the business".
This venture capitalist approach was to be then replicated in other Naspers acquisitions, in places as far apart as India, Russia and Brazil.
Writing in 2007, Ying Zhao, a researcher then based at Stellenbosch University, identified some contrasting management styles between the two partners.
Naspers, he pointed out, was focused on both the South African and global market, while Tencent was focused on the demographically solid Chinese market.
It's no wonder that one of Bekker's acts of giving back to society was to contribute to the establishment of the Centre for Chinese Studies at his alma mater, Stellenbosch University.
Harber adds that Bekker's "thumbs-up for China" can be seen in his "learning Mandarin for years, well enough, in fact, to have delivered a speech in it".
Within the story of Tencent - as the goose that lays the golden egg for Naspers - is an aside story of its rivalry with another Chinese company, StarTimes, which was also looking to enter the potentially massive African pay TV market.
StarTimes recently bought into Top TV - now renamed Starsat - a rival to Naspers' Multichoice subsidiary, Dstv.
Harber writes that Naspers was "disturbed enough" about StarTimes' foray into the South African pay-TV market that it made its own offer for the then-ailing Top TV, which it lost to StarTimes, thus opening a new front of fierce rivalry not just in South Africa but continentally.
Naspers' complicated marriage with Tencent might well be best-titled "cooperation and competition".
Yu-Shan Wu of the South African Institute of International Affairs points out that the decision by Xinhua News Agency's CNC World to use Naspers' MIH distribution network of television content, is evidence that its foray into China is set to continue to bring rich rewards.
For China Daily
(China Daily Africa Weekly 07/18/2014 page8)
Today's Top News
Editor's picks
Most Viewed