A tour of Confucius Institutes in the Americas
By Cindy Liu in Los Angeles, May Zhou in Nashville, Tennessee, Zhang Fan in Santiago, Chile, and Rio de Janeiro, Brazil, Cai Chunying in Washington, and Liu Chang in Chicago | China Daily USA | Updated: 2014-05-30 12:29




Share - WeChat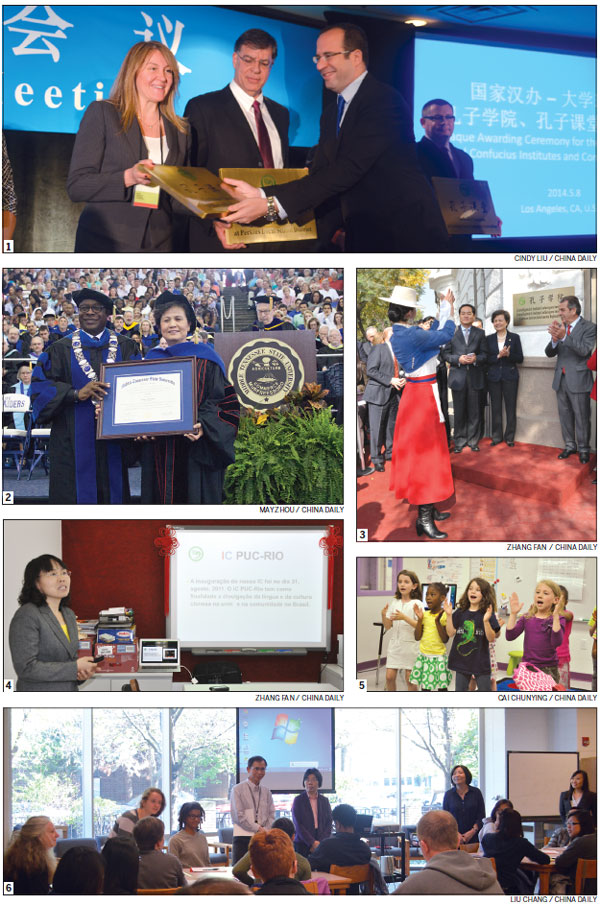 (1) David Coleman, president of US College Board, confers Confucius Classroom plaques to schools during the 2014 National Chinese Language Conference in Los Angeles. (2) Director general of Hanban Xu Lin (right) receives an honorary doctorate from Middle Tennessee State University President Sydney McPhee. (3) In Santiago, Chile, a local performer celebrates the launching of the Confucius Institute Latin America Regional Center with Chinese Ambassador to Chile Yang Wanming (left); Xu Lin (center); and former president of Chile Eduardo Frei looking on. (4) Qiao Jianzhen, the Chinese director of the Confucius Institute at the Pontifi cal Catholic University of Rio de Janeiro, Brazil, introduces the institute's history and development. (5) Students of the Confucius Classroom at Washington's Yu Ying Public Charter School, affliated with the Confucius Institute at the University of Maryland, sing a song in Chinese. (6) Teachers at Confucius Institute in Chicago give orientation to high school students in the Chicago public school system, who were selected to participate in an upcoming study program in Hangzhou, China.
Ten years of establishing Confucius Institutes and Confucius Classrooms worldwide were marked earlier this month when a delegation from the Office of Chinese Language Council International in Beijing - more commonly known for its Chinese abbreviation Hanban and which grants Confucius Institutes - toured institutes and classrooms in the Americas. China Daily reporters followed the delegation to each stop to gain an understanding of how the Confucius Institutes have a& ected lives and contributed to the overall Americas-China interaction.
Confucius, the ancient Chinese sage who lived more than 2,500 years ago, is hailed for his intellectual charm of attracting 3,000 followers throughout his life.
It only took Confucius Institute, an initiative of teaching Chinese language and culture in countries beyond China, 10 years to reach tens of thousands of students in more than 120 countries and regions.
During its tour, the Hanban delegation launched five new Confucius Institutes and 15 Confucius Classrooms in the US, unveiled a Confucius Institute Center in Latin America, and visited a few established Confucius Institutes and their affiliated Confucius Classrooms along the way. The trip covered six cities in 10 days, typical of the hundreds of tours Hanban has led in the last 10 years.
Los Angeles
Los Angeles was the site for the 2014 National Chinese Language Conference (NCLC), the largest gathering of K-16 teachers in the US who are teaching and conducting research in Chinese language, co-organized by the Asia Society and US College Board, both partners of Hanban.
The 2014 NCLC, held from May 8 to 10, marked the first time the College Board has collaborated with Hanban to establish CIs and CCs within College Board's network.
Announcing five new CIs and 15 new CCs, David Coleman, president of the College Board, said, "Hanban is just like the sun. It lights the path to develop Chinese teaching in the US. The College Board is the moon. I am so honored to re8 ect the light that we've gotten from Hanban."
Susan Pertel Jain, executive director of the Confucius Institute at UCLA and a professor of art, has allowed her own passion in Chinese art to be absorbed into the institute's programs.
"People need to be inspired. Chinese art often is the greatest inspiration for American people to learn Chinese," said Jain who holds degrees in Chinese language and Asian theater.
She emphasized that her institute is not only a platform for learning Chinese language but a platform for professionals in art to "polish their professions in communicating with China by understanding Chinese."
UCLA's CI is an example of how the Confucius Institute differs from other leading cultural advocacy institutions in the West, such as Germany's Goethe Institute, the UK's British Council and France's Alliance Francaise.
Although Hanban provides launching funds, language teachers, and cultural materials, it is the hosting institutions that apply for the establishment of CI and develop their programs based on their own goals and resources, giving each CI a distinct approach.
Today's Top News
Editor's picks
Most Viewed