Worthy of an empress
Share - WeChat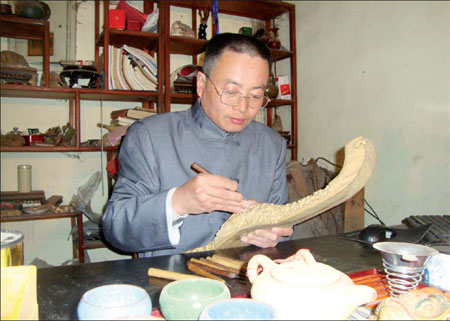 Kong Lingyou, a local artist, works on Chinese Pistache woodcarvings in his studio. Right: A walking stick with a dragon carving. Photos Provided to China Daily
One of the few gifts that could bring a smile to Dowager Cixi's face, ruyi carvings - made using wood from the Chinese Pistache tree - are delicate art pieces and it takes weeks to complete each
Anyone with an interest in Chinese history will know how difficult it was to flatter Dowager Cixi with gifts. With a huge collection of priceless objects in her possession, very little could impress the empress, who was known for her decadence.
But in the 17th year of Emperor Guangxu's reign, Zhang Rumei, governor of Shandong province, did manage to put a smile on the powerful empress' face when he presented her, as birthday gifts, two ruyi carvings made using the wood of the Chinese Pistache tree as birthday gifts, which Dowager Cixi hailed as items demonstrating extraordinary skill.

Ruyi Pistache woodcarving is a form of folk art from the city of Qufu in Shandong province, which is famous as the birthplace of Confucius.
The subject of the carving is usually associated with historical acts of goodwill, with the head often shaped like a propitious cloud. One of the ruyis given to Empress Cixi was of 100 children delivering a happy birthday message.
Carved from the wood of the Chinese Pistache tree, they are usually lifelike and highly detailed.
Qufu is known for its woodcarving, ruyi being the most common form. The best wood for making Pistache wood ruyi is said to be from trees planted in the cemetery of Confucius, and there is a filial tale related to this belief.
Legend has it that after Confucius died his loyal disciple Duanmu Ci placed a crying stick in the ground next to his tomb and set up home nearby. God was moved by his sincerity and caused the crying stick to grow into a tree.
This was the first Chinese Pistache, which is said to get its name, which means an example in Chinese, from Duanmu's filial piety as a committed student of Confucius.
Duanmu later carved a figure of Confucius using wood from the tree and the tradition of using Chinese Pistache from the graveyard of Confucius was born.
Today, Chinese Pistache are rare in Qufu and it is unlikely many carve ruyi using wood from the Cemetery of Confucius, which is a popular tourist attraction.
The wood of the Chinese Pistache is golden colored and resilient to damage. According to Yan Jingxin, the most prominent wood carver in Qufu, wood from the cemetery is better than that found elsewhere not just because of its connection with the great philosopher, but also because it contains more moisture embodied in it, giving it a brighter color.
Yan, 78, who comes from a family of wood carvers, took up the craft when he was 12. He says he is now the fifth generation of carvers in the family and that one of his ancestors was a reputed carver during the reign of Emperor Qianlong.
"The older a Chinese Pistache gets, the better the wood from it is," he says. "Wood with more oil is preferred, as oil makes it easier to carve; dead trees are inferior to living ones."
It is important to visualize the finished piece before beginning to carve, making draft lines on its surface, before using three knives - round, flat and triangular - to carve out the design, he says.
The carving process is strenuous, and it takes a skilled worker about a month to complete a 40-centimeter-long ruyi, he says.
Common themes today include birthdays and marriages, or a bat, deer or crane, because the Mandarin pronunciation of these animals' names sounds similar to the words for luck, wealth and long life. Newly married couples are often given Pistache ruyi carved with a pair of dragons and a phoenix, which represent harmony.
From the 1950s to the 1970s traditional ruyi carvings were criticized as being superstitious and were largely abandoned, Yan says. and revolutionary carvings took their place.
When China began to open up to the rest of the world in the late 1970s, Qufu Pistache woodcarving began to gain global popularity and Yan started receiving orders from overseas.
"In Japan, woodcarvings of Confucius are popular, but in the West they prefer animals, like lions and elephants," he says.
"We produce carvings according to the needs of different international customers."
Kong Lingyou, 43, a woodcarving store owner, has been in the business for 23 years. The time and skill needed to produce a good Chinese Pistache woodcarving makes it a luxury item.
Qufu Pistache woodcarvings have been recognized internationally for their beauty and skill, having won a medal at the 1915 Panama Pacific International Exposition, he says.
Now he hopes a professional market for them can be set up in Qufu to better promote these finely crafted wooden sculptures in China and around the world.
lixiang@chinadaily.com.cn
(China Daily 04/26/2013 page26)
Today's Top News
Editor's picks
Most Viewed