Special:  Singles Day of the Century
Updated:2011-11-11 16:45
By Sun Chi and Quan Li (chinadaily.com.cn)
Editor's note: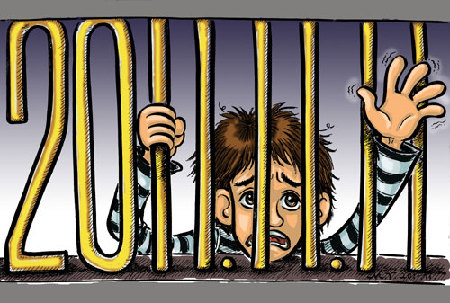 It's difficult to trace the origins of Nov 11, a big day in China. Because it's a duplication of the number 11, the day is portrayed and widely accepted as guang gun jie (Singles Day). But unlike the enthusiastic celebration of singledom a la Sex and the City or Bridget Jones, China's Singles Day includes all stages of singledom – happy single, looking for love single, and married but soon to be single again. It's an all-inclusive special day that encompasses everyone. To celebrate, some embrace their singledom, and others want to end their single status once and for all.
It's printed in newspapers, mentioned by television programs and radio shows, advocated by millions of websites. My cell phone keeps receiving unsolicited messages on discounts to mark the so-called Singles Day.
Essentially it's a spending day exploited by various business organizations. Taobao, China's largest online retail platform, reported a transaction volume of 900 million yuan during a special "Singles Day" promotion on Nov 11, 2010. More online shops have joined the promotion campaign this year as it is regarded as the Singles Day of the Century.
But it also strikes a chord among some young people who are under pressure to find partners.
 Editor: Sun Chi and Quan Li
 
 
 
 

Eleven guys wrapped in quilts ride the No 1 metro line in Shanghai on Nov 1, 2011. They are wearing signboards with their contact information and their desire for a wife.

A man dressed in a jumpsuit displaying the Chinese character guang, meaning single here, poses for photos with passers-by in downtown Chongqing on Tuesday. The self-proclaimed "Guanggun Man" said he has never had a girlfriend and he is trying to collect 1,111 hugs from people on the street.


Six 3-meter pillars are put up in front of a shopping mall in Shenyang, capital of Liaoning province, to represent the rare
date, 11.11.11, which is also Singles Day.
 
 
 

Students hold up paperboards and fried dough sticks (usually eaten for breakfast) during a bachelors party at a college in Yangzhou, East China's Jiangsu province, Nov 10, 2011. The boards are painted with dough sticks and the date Nov 11 to mark Singles Day.

 

Posters for Singles Day are put up at Nanjing University, Nov 10, 2011. Slogans such as "I don't want to spend Singles Day by myself," "I want a boyfriend," "I want to be a kept lover" adorn the posters.

 

A certificate of being single is sold at a store in Beijing, Nov 10, 2011. The product was a hot seller leading up to Singles Day.

 
 

A sand painting featuring Xuanzang, a famous Chinese Buddhist monk, is made by Liu Yong, a painter in Jilin city of Northeast China's Jilin province, Nov 8, 2011. Liu, a 33-year-old single man, made the painting to mark Singles Day.

Four men are among more than 10 single men in Gaopo village, South China's Hainan province, Sept 5, 2011. The oldest single man in the village is 50. The village has a severe gender imbalance as most single women are working outside and not willing to settle down in the poor village.

Sister Furong, who became famous online several years ago, posted a new photo album for this year's Singles Day. Furong shot to fame in 2005 on the Internet for posing like an "S" and saying outrageous things such as, "My charming and sexy outlook, pure and noble disposition make it impossible for me to hide from public attention." She came back in the spotlight at the end of 2010 after losing weight. She said she wants to lose more weight to stop being a "guanggun."
Singles Day, Singles Economy

Business opportunities seem to be everywhere, for Nov 11 this year is the Singles Day of the Century, with six "1"s coinciding for a date that comes along only once every 100 years.

Featured gifts for Singles Day are becoming popular among young people. Postcards with tuo guang (get rid of single state), T-shirts with bu gu dan (I'm not lonely) are just a few examples of Singles Day gifts available at Internet shopping stores.

Tailor-made movies for this special day, such as Love is Not Blind, are drawing great attention from many young people who plan to meet at cinemas this weekend.

Singles Day rituals 

For breakfast on Singles Day, some young singletons will have four deep-fried dough sticks (a popular Chinese snack) representing the four "ones" in "11.11" and one steamed stuffed bread representing the middle dot.

 

 

Farewell to singledom on Singles Day

Many young people will end their single lives on this day. Some will attend blind date parties and others will get married on this day because the four "1"s in the date can also be read as "You are the one."

Saying goodbye on Singles Day

Singles Day is not only applicable to single people but also for married people too. Some couples choose to divorce on this day and return to being single.