It isn't just business that is booming in China. So are business schools, which have accelerated efforts to attract researchers and faculty members from overseas.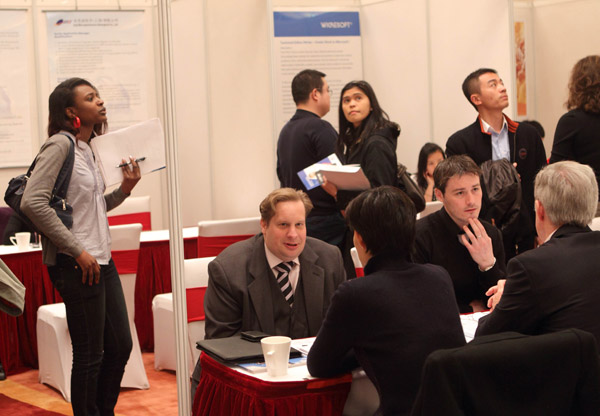 This job fair in Shanghai last year targeted foreign candidates. Universities on the Chinese mainland are searching globally, too.[Photo/China Daily]
With the globalization of China's economy and the blending of foreign companies and local culture, more businesses are looking for key employees who understand modern management methods.
Schools say they are meeting this demand and many of them pay top dollar for teachers and researchers they hope will lead them, and China, into a stronger business future.
As the cradle of the country's private enterprise, East China's Zhejiang province has seen the rapid growth of private capital and entrepreneurial success.
It offers a distinctive business environment that is different from Beijing with its concentration of State-owned companies and Shanghai with its multinationals.
"For academic researchers who are interested in China's private economy and entrepreneurial leadership, there is no better place than here. A variety of business cases here are worth researching," said Wu Xiaobo, professor of innovation management and strategy and executive dean of Zhejiang University's School of Management.
In April, the school began a campaign to lure talented academics by offering substantial salaries and benefits.
Successful candidates at the top level will receive an annual wage of 1 million yuan ($156,000) plus moving allowances. Those candidates must be leaders in their academic fields, have profound knowledge and research experience, and be 55 or younger. (Promising young candidates for other positions would be paid 120,000 to 500,000 yuan.)
Wu said the compensation package is well within the school's development guidelines, with the candidates expected to play a key role in helping it become a world-class business school. They will be responsible for developing the discipline, organizing and implementing its development strategy, and promoting international influence.
During the past three decades, the school has been devoted to creating theories and methods to promote the development of social welfare and management science in China and to cultivate innovative managers who will lead and serve economic and social development.
"We need to tap into the increasing business education demand for talented people created by China's booming economy," he said. "So we need more people who have extensive academic experience and a global vision, hoping they bring a great deal of advanced experience and research methods to the classroom."
Teachers and a dean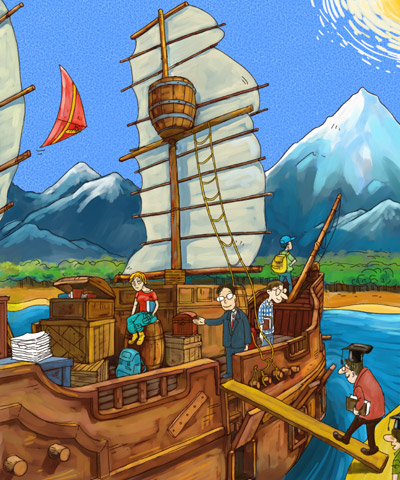 Antai College of Economics and Management at Shanghai Jiao Tong University had recruited teachers globally before, but when it started looking for a new executive dean in 2009, it wanted to accelerate its international development. The position went to Zhou Lin in April 2010.
Zhou earned his bachelor's degree in 1982 from Fudan University and his doctorate in economics in 1989 from Princeton University, in the United States. He taught at Yale, Duke and Arizona State universities in the US, City University of Hong Kong, and Tsinghua University.
Peking University's Guanghua School of Management is expanding the scope of its business education through hiring of faculty and visits by experts. It invites industrial leaders and academics from overseas policy institutes and think tanks to speak on campus and bridge theoretical study and practical experience.
Guanghua had 105 full-time teachers on record in June. Of those, 34 earned their PhDs on China's mainland, and the rest in Hong Kong, Taiwan or foreign countries. They graduated from such universities as Oxford in England and Harvard, Stanford, Princeton, Duke and the University of California, Los Angeles, in the United States.
To lure first-rate talent, professors are paid in line with international standards and are eligible for paid sabbatical leave after six years, the school said.
Lu Qinghai worked on his MBA at Guanghua part-time over three years, and said the experience helped him build a high-level social network in China.
"The people connection is very important for anyone planning to do management work in China, and the reputation of Peking University attracts many talented students to the classroom," he said. "Although tuition was up to 75,000 yuan in 2005, I believe it was worth it."
Focus on research
Sun Yat-sen University in Guangzhou is emphasizing research in its Hundred Talent Program. Following the lead of the national Thousand Talents Program, it seeks candidates from natural sciences and engineering who have PhDs from prestigious overseas universities and at least three years' work experience in research.
"The addition of skilled overseas Chinese and foreigners is of great importance to Guangdong's economic development and industrial upgrading," said Tan Hongzhou, director of the School of Information Science and Technology. "A professor should not only be excellent in terms of academic performance but also be experienced in working with overseas companies."
Tan worked at several universities and IT companies in North America before becoming a professor at Sun Yat-Sen in 2004. He is a senior member of the Institute of Electrical and Electronics Engineers, and his research interests include signal processing, integrated circuit design, radio frequency identification, and intelligent systems.
Tan suggested that government and university authorities pay attention to overseas scholars' working experience.
"Scholars' research should be of great importance to regional economic development. They should have a background of working in industries and do more to serve the country's economy," he said.
Since joining the university, Tan and his colleagues have conducted research projects related to the IT, auto manufacturing, airport logistics and leather industries in Huadu district of Guangzhou. "The projects have greatly helped expand the local pillar industries," Tan said.
The university has participated in 169 cooperative projects, which highlight integration of research and industrial development in Guangdong, a major economic powerhouse in South China.
To help strengthen innovation and to upgrade its traditional industries, Guangdong last year introduced 12 scientific and research teams that included 15 leading international academic researchers, 46 percent of them experts in biomedicine.
Each team is granted a research fund of 10 million to 80 million yuan, and each member receives a 1 million-yuan living subsidy, a government source said.
One of the teams, dedicated to human virology research, was set up at Sun Yat-sen. The university has also provided research start-up grants, offices and laboratories, and an allowance to enhance the researchers' living environment.
"The start-up grants have allowed me to focus more on my research," said ecologist He Fangliang, who moved to the university last year.
A challenging study by He and an ecologist from the United States was published on May 19 in the journal Nature. It casts doubt on the traditional mode of predicting extinction rates, known as the species area curve, which suggests species are disappearing 100 to 1,000 times faster than is normal.
East vs West?
"I prefer to hunt for talented people with a business school background in China rather than foreign-accent MBAs," said Liu Guoqian, a senior manager of Bexcel Management Consultants in Beijing and a Tsinghua business graduate in 2006. "They usually have better communication skills with our domestic clients, and show a strong, hard-working spirit and good insight."
He thinks that people who studied at foreign business schools have more knowledge about case studies in foreign textbooks and are familiar with the business rules of the outside world, but are weak on initiative and depth.
Candidates for consulting jobs with his firm who have foreign business school degrees "will be considered if they have a special technical background," Liu said, "or I will treat them the same as domestic new graduates."
Elan Shou, who became senior vice-president of public relations firm Ruder Finn China in January, said, "It is good to see that China's business schools are in vigorous development. But for most of them, it is still a lack of experienced international faculties, from whom students could get the most advanced management theories."
Shou earned an executive MBA from the University of Chicago's Booth School of Business in 2007. Over about three years, she flew from Shanghai to the Booth School's campus in Singapore for one week of study every month. "It's really a hard journey, but I gained a lot," she said.
"Booth provides a solid academic environment that combined theory and practice. We had a lot of case studies and academic discussion with top professionals, which could help ignite the management efficiency in students' practical work.
"Also, Booth has a very diversified student body," she said. "It gives students a chance to have contact with people from different cultural backgrounds. That's important, to broaden the global vision."
Chen Chen, 28, graduated from the University of International Relations and works in human resources at a Beijing-based foreign bank. As he gains work experience, he dreams of earning an MBA in the United States and then working there.
"More education for capable managers, both in the Chinese ways of doing business and the Western ways, becomes absolutely critical for both foreign and local companies to compete and grow in China," he said.
"I have learned Chinese ways in practical work in the past years, which I don't think the domestic business school could teach me," Chen said. He feels that international experience is vital for him and other Chinese business students if they are to succeed in a global economy.