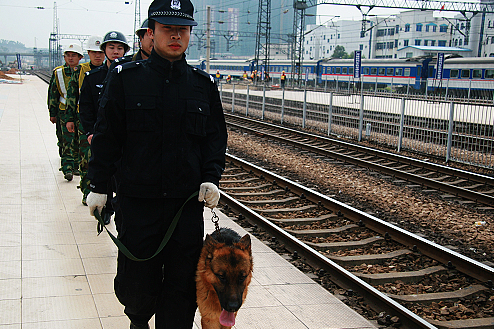 A group of police officers during routine duty in Shenzhen, South of China's Guangdong province, April 10, 2011. [Photo/ Shenzhen Economic Daily]
Shenzhen has ejected about 80,000 "potentially unstable people" in a bid to secure social stability for the upcoming 26th Summer Universiade, the Shenzhen Economic Daily reported.
Shen Shaobao, vice director of Shenzhen Police Bureau announced the figure from the "100-days Social Security Campaign" during a news conference.
"People living in Shenzhen without proper identity, justifiable reasons and those acting suspiciously posing a threat to people and the social security are what we called unstable residents,"said Shen.
Eight groups of people are listed in the high-alert category, including former inmates, nomads,unemployed vagrants, people engaged in suspicious activity including drug trafficking and contraband goods. Since January police have also removed people who live by fraudulent means such as child-beggars, mentally ill people who pose a danger to others, and unregistered residents who earn money in the rental business and unclassified floating residents.
Shenzhen will launch the second-phase of the social security campaign as the opening day of Universiade which falls on August 12.
"We will deploy over 500,000 mobile civil watchmen to further intensify social security inspections with a special focus on the floating population, explosive checks, city community regulation, and residential security checks," Shen told reporters.