BEIJING - In an exclusive interview with the official website of the Beijing 2008 Olympic Games on the occasion of the one-year countdown to the event, President of the International Olympic Committee (IOC) Jacques Rogge looked back at the important events of the Olympic Movement, touched on its reform and anti-doping campaign, expressed his best wishes and anticipations for the upcoming Olympics, and for the volunteers and visitors of the official website.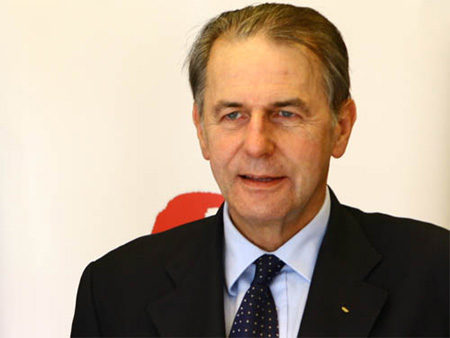 Making sure the Olympics remain the dream of future generations
In July 2001, Moscow witnessed a significant historic event for both China and Rogge: There, Beijing won the right to hold the 2008 Games, and Rogge took over Antonio Samaranch's seat as IOC's eighth president. Six years have passed and now Beijing is bracing for the next year's event, while Mr. Rogge is leading the IOC in a new era of development.
Speaking of the challenges facing the IOC, he said: "what you have to do is to make sure that the Olympic Games remain the dream of future generations. This is easy to say, but not easy to do. And we must make sure that it remains a dream. It has to remain the number one event in sport. It has to remain something that all young people aspire to. And this takes a lot of work."
The Modern Olympic Games has been around for more than 100 years, and now it has become a global sports and cultural event. In Rogge's opinion, the most important period was 1960 Rome Games where television came for the first time. "This has led to a far bigger audience than before, and this in turn has generated a lot of extra revenue for the Olympic movement."
He went on in length to review the reforms that have taken place in recent years: "We have tried to limit the size, the complexity, and also the gigantism of the Olympic Games, and therefore we have set a limit of 28 sports, of 10,500 athletes, and also we have taken 170 different measures that are slowly being implemented now, and we will come to about 100% of these measures in Beijing, and this will ensure
that in the future the Games are better organized and also that they are affordable for more cities in the world, that not only big and rich cities can organize them, but also mid-size cities."
Responding to the question if that means that developing countries will have more opportunities to host the Games, he said: "Yes absolutely. This is what we want to have and we are sure that this is going to bring out very good results in the future."
He said IOC "definitely would love to see the continents that have not yet organized the Games like Africa or Latin America do that in the future." "I cannot tell you exactly when, but I will see it in my life I hope, and I think that there will be Games in these continents."
Doping has been a chronic problem hampering the development of the Olympic Movement. At the beginning of this year Mr. Rogge said one of his wishes for the year is to make further advances in eliminating doping cases. Assessing the results obtained thus far, he said progress has been made. "We are preparing a very strong anti-doping campaign in Beijing with our friends from BOCOG. We will have not less than 4,500 tests, which is about 1000 tests more than we had in Athens, and we have a very, very strong zero tolerance policy with that," he added.