Beijing Olympic organizers are investigating four companies that allegedly have used child labor and other illegal practices to make official Olympic merchandise.
Chen Feng, director of marketing for the Organizing Committee for the Beijing Olympic Games (BOCOG), said at a press conference Wednesday that he would meet with the four accused companies after the media briefing to discuss the accusations.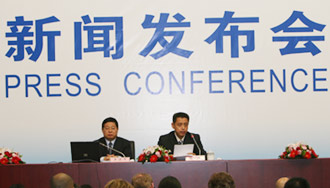 The southern China-based companies, which produce Olympic-licensed products such as backpacks and stationery, have come under fire following the release of a report on Sunday compiled by PlayFair 2008 - an alliance of global trade unions and labor groups.
The report states that the factories violated Chinese and international labor standards by hiring child workers as young as 12 and imposing conditions such as forced overtime, 12-hour work days, and wages below the legal minimum.
Chen said the companies' contracts will be terminated if the allegations are found to be true. He added that the companies will also face a violation fee, but he did not specify the amount.
"We will severely punish violators," Chen said.
The charges come as the Chinese government is in the midst of giving Beijing a facelift worth an estimated $40 billion, and the charges have the potential to embarrass the host country.
Chen added, "We don't want (the charges) to damage the Olympic image."
He said BOCOG officials will continue to emphasize corporate responsibility, environmental protection and quality control, and conduct spot checks on factories if the organization receives complaints.
"We want them to increase their efforts to remove any problems," he said.