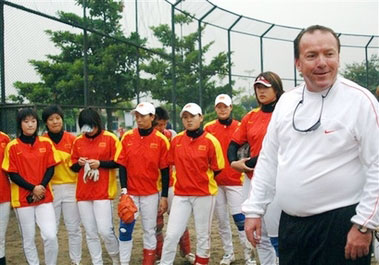 Michael Bastian, right, head coach of the Chinese national women's softball team, stands beside his players during a practice session in Guangzhou, capital south China's Guangdong Province, in this February 22, 2006 file photo. [AP]


An American coaches China's women's softball team. A Serbian oversees Olympic men's soccer. The men's national basketball team turned to a Lithuanian. In field hockey, the men and women are managed by South Koreans. Need a synchronized swimming coach? The Chinese hired a Japanese.

Welcome to China's push to overturn the United States as the premier gold-medal power at the 2008 Beijing Olympics, a quest led by dozens of foreign coaches.

"We're seeing the emergence of a sporting superstate," British Olympic Association chief executive Simon Clegg said. "And it's quite frightening for all the other nations in terms of their preparations and expectations for the 2008 Games."

He added: "In sporting terms, actually, we're all at war against China."

Amid a booming economy and frantic Olympic building, China is reported to be training about 20,000 athletes. Even Peter Ueberroth, chairman of the US Olympic Committee, has said China is likely to be No. 1 in Beijing.

Four years ago in Athens, China won 32 gold medals -- just behind the 36 of the US The Americans won 20 gold medals in just two sports -- swimming and track and field. Only in two other sports did they win more than one gold, with the rest coming across a smattering of sports from fencing to taekwondo.

China won 21 gold in five sports: diving, weightlifting, shooting, badminton and table tennis. Of the 28 Olympic disciplines, both countries managed gold medals in about half in Greece.

Women's softball is a medal possibility, and China hired American Michael Bastian a year ago to improve its standing as the world's fourth-ranked team. The Americans are No. 1 followed by Japan and Australia.

"My dream would be to see China play the United States in the gold-medal game in 2008," Bastian said, speaking from the team's training camp in the southern city of Guangzhou. "I would have mixed emotions, for sure, but I'd like to experience this."

China won silver in softball in the 1996 Olympics. Bastian, who grew up near Sacramento, Calif., said China has a pool of 600-900 top women's softball players" in a country of 1.3 billion.

"They have great athletes, but so much of what they learn to do is memorized -- mind-mapped," Bastian said. "They work hard, but they have a hard time improvising. If a coach or team leader hasn't given a specific instruction, they have a hard time analyzing. Thinking out of the box -- they don't know what that is."

Bastian, who coached the Akron Racers in the defunct Women's Professional Softball League, says he is well compensated in China.

"They take good care of me, about like a top level American college coach," he said.

An Olympic soccer medal might be China's toughest task. The Chinese were the worst team in the 2002 World Cup, failed to qualify in 2006 and lag far behind Asian rivals South Korea and Japan.

In hiring Serbian Ratomir Dujkovic three months ago to coach its Olympic team, China passed over at least three men who once led high-profile national teams: Sven-Goran Eriksson (England), Berti Vogts (Germany) and Jacques Santini (France).

"I worked in Asia before, but this is a very challenging -- the Olympic Games," said Dujkovic, who coached Ghana to the final 16 of last summer's World Cup, beating the United States and the Czech Republic. He's also coached national teams in Rwanda, Myanmar and Venezuela.

"Chinese football is at a young stage compared to world football, but we wish to advance as much as possible," Chinese Football Association general secretary Xie Yalong said. "The Olympics in China are providing us with the inspiration to learn from the outside world."

In basketball, China has the luxury of 7-foot-6 Houston Rockets star Yao Ming and 7-0 Yi Jianlian, who is rated highly by NBA scouts. All of which puts pressure on Lithuanian coach Jonas Kazlauskas. He was an assistant on China's 2004 Olympic team, which reached the last eight.

Since then, China reached only the final 16 of last year's world championships. Kazlauskas has accused his players of being soft, though they did win the Asian Games last month.

"Jonas Kazlauskas is a clever coach," said Li Yuanwei, head of the nation's Basketball Administration Center, the national governing body. "Sometimes he's quick to get angry, but it's his way of stimulating the players."

South Korean Kim Chang-back was appointed the women's field hockey coach in 1999. Fourth in Athens three years ago, the team won gold in the recent Asian Games. Compatriot Kim Sang-ryul hopes to turn the same trick with the men's team, and is off to a good start. The squad upset India and Pakistan in the Asian Games before losing the final to South Korea.

China's most surprising coup came a few weeks ago, signing Japanese coach Masayo Imura to lead synchronized swimming. Imura is called the "godmother" of Japanese synchronized swimming. She hopes her move will improve China-Japan relations, though some see her as a traitor.

"There have been few examples in the past of a top Japanese female instructor being hired by a foreign country as the coach of its national team," the Japanese newspaper Asahi Shimbun wrote in an editorial. "This is a challenge that will also break new ground for Japan's female sports community."

And for China.