The Beijing Organizing Committee for the Games of the XXIX Olympiad (BOCOG) posted a tentative schedule on its website Monday listing weightlifting as China's first medal prospects, reports Sports Weekly.
However, a BOCOG sports department officer told chinadaily.com.cn that "the schedule hasn't been finalized yet, so it's hard to know the games results in terms of an updating schedule."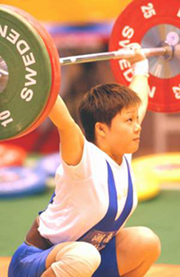 Yang Lian.

According to the latest schedule, or version 2.07, there are seven gold medals slated for August 9, 2008, including cycling (one), fencing (one), weightlifting (one), judo (one) and shooting events (two).

The women's 48kg weightlifting class is set to start at 10:00 am. It's likely that this event will finish earlier than the others, and may become China's first chance to win gold on home soil.

Not surprisingly has China dominated the weightlifting event for years, with more than two outstanding athletes in the 48 kg class, one of which is world record holder and world champion Yang Lian.

The teenager herself is optimistic about the Olympics and says she is confident but that first she must qualify for the Games after some severe competition from her compatriots.

Ma Guangwen, the judo, wrestling, and weightlifting sports administration head said the weightlifters are already prepared for the 'first gold-clinching' task, while the crucial problem will be keeping themselves relaxed and in good physical condition by then.

The national shooting squad, the major medal prospect past years, may lose the chance to shoot down China's first gold, though, head coach Wang Yifu says he doesn't think the changes will dampen their confidence of winning gold in the upcoming Beijing Olympic Games, "we will go for the gold with everything we have, whether it is the first of the Games or not."

China's first medal prospects at Beijing Games can't be predicted simply through a schedule that has yet to be finalized, BOCOG consultant and former China Olympic Committee secretary general Wei Jizhong commented yesterday.

"There are generally two determining factors in clinching the first Olympic medal," Wei said. "It should be an individual event along with final and preliminary matches of this event on the same day, in accordance with international practice. Because of this, shooting, archery and weightlifting rank the top three possibilities.

Although the IOC issues strict requirements for Olympic cities concerning competition calendar, the host is capable of making minimal adjustments to their own advantage, Wei added.

Wie took the Sydney Olympics as an example where the Australian Olympic Committee had scheduled the women's triathlon, one Australia's strongest events, early in the morning of the first competition day, hoping to win the Games' first gold. In the end, however, Switzerland won the gold.

Competition Schedule (by session) Version 2.07
Note: The schedule by session is not the final version and is subject to change.