China's veteran speed skater Wang Manli has vowed to win the gold medal at the 2010 Winter Olympic Games in Vancouver.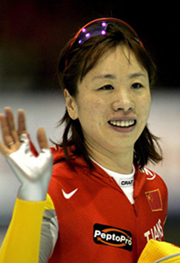 The 33-year-old moved many people when she cried after missing out on the gold medal at the Winter Olympic Games in Turin last February.
"I failed in Turin because of high psychological pressure. But now I have learnt to deal with people's expectations and I am just looking forward to winning in the 21st Winter Olympic Games," said Wang.
Wang, who has been plagued with knee injuries for years, said that she is uncertain about whether she could be fit enough to compete at the 6th Asian Winter Game, to be held January 28-February 4 in Changchun, the capital city of northeast China's Jilin Province.
"Though I have rested for three months, I am not sure whether I can take part or not," said Wang. "There are less than 20 days to the 6th Asian Winter Games, but I think I have only recovered 60-70 per cent by then."
Born in Mudanjiang City of Heilongjiang Province, Wang began her skating since 11, wined the gold medal of Women's 500m Speed skating in the 3rd Asian Winter Games. She also has got the gold medals of the Speed Skating World Cup and the Speed Skating Championships except the Olympic Games.