Beijing on Thursday unleashed its first team of 16 dogs to undertake rescue missions in emergencies such as fires, and anti-terrorist operations for the 2008 Beijing Olympics.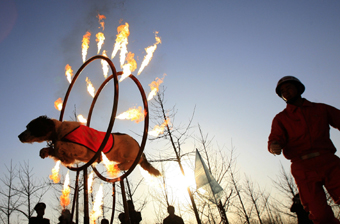 A rescue dog jumps through hoops during training at a fire-fighting unit in Beijing December 28, 2006. [Reuters]


The team, belonging to the Chaoyang District Firefighting Branch, comprises six German shepherds, four Labrador retrievers, four springer spaniels and two Malinois.

All are pedigrees aged two or under, who were selected from northeast China's cities of Shenyang, Harbin and Changchun, according to the Beijing Firefighting Bureau under the Beijing Public Security Administration.

"The dogs have been trained to rescue people trapped in collapsed buildings and detect bodies after fires," said Zhao Zixin, director of the firefighting bureau.

They will undertake anti-terrorist tasks and take part in emergency operations during the 2008 Olympic Games, Zhao said.

The dogs will also be trained to detect drugs, explosives and gas leaks in the future.

The bureau has built 42 kennels for the dogs.

More rescue dogs will be trained in future, according to the bureau.