Free parking lots will be built near subway and bus stops in Beijing to encourage drivers to use public transport in downtown Beijing, an official said Monday.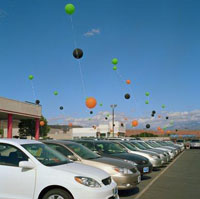 Twenty-six free or low-cost large-scale parking lots are included in the plan to reduce traffic jams in downtown Beijing, said Zhou Nansen, a member of the Beijing Municipal Commission of Urban Planning.
The first two, located near some subway stations in Beijing, will each cover about 20 acres, Zhou said.
Parking fees will be much lower than the usual downtown rate of two yuan an hour (US$0.25), Zhou said.
To fight traffic jams, Beijing will take more measures to encourage people to use public transport.
The old monthly bus passes on Beijing's 447 bus lines will be phased out in favor of new digital passes which will entitle commuters to a 60 percent discount starting January 1, 2007, said Li Jianguo, deputy director of the Beijing Municipal Commission of Communication.
Bus routes will be redesigned. Over 110 duplicate routes will be eliminated and 1,500 buses will be transferred to new routes stretching to 300 communities, Li said.
Beijing invested 11.67 billion yuan (US$1.48 billion) in public transport service construction this year, according to Beijing Municipal Commission of Communication.