Beijing's former vice mayor Liu Zhihua, who was sacked in June for corruption, has been expelled from the Communist Party of China (CPC).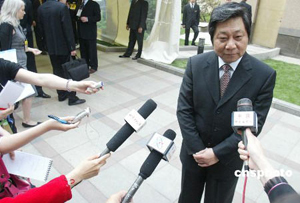 Liu Zhihua.[File Photo]

Liu has also been dismissed from all administrative posts, the Central Commission for Discipline Inspection of the CPC announced Tuesday.

Judicial departments will also launch criminal proceedings against Liu.

"As a senior cadre, Liu completely ignored the Party spirit and caused a vile social and political impact and major economic losses through his wrongdoing, which must be seriously punished," the commission said.

The investigation of Liu, conducted by the commission, found he had taken advantage of his posts as vice mayor and secretary-general of the Beijing municipal government to take several million yuan in bribes.

The investigation also found that Liu's lifestyle was corrupt and depraved and he abused his power in order to contract projects for his mistress and sought large illegal profits.

"Hard evidence has showed that Liu seriously violated the discipline of the CPC and the government, and issues such as bribery have violated the law," the commission said.

The Standing Committee of the Beijing Municipal People's Congress published in a bulletin last Friday that Liu had been dismissed as deputy to the local legislature.

Liu, 57, comes from Liaoning, northeast China. He joined the CPC in 1984. His former posts include head of the Beijing Municipal Labor Bureau, secretary of CPC Committee of Xicheng District in Beijing and the secretary-general of Beijing Municipal People's Government.

He was elected vice mayor in 1999 that oversaw construction, real estate, sports and traffic projects in the capital.

Liu is yet another high-ranking official who has fallen from grace in China's fight against corruption.

The sacking of Shanghai party chief Chen Liangyu in September for alleged involvement in a social security fund scandal, has become the country's highest-ranking official to fall in the latest anti-corruption campaign.

Later, Qiu Xiaohua, former statistics chief, was removed from the National Bureau of Statistics for his suspected involvement in the 10 billion-yuan (US$1.25 billion) Shanghai social security fund fraud.

China has always taken a hard stand against corruption and allows no exception in punishing discovered corrupt officials, said Ouyang Song, deputy head of the Organization Department of the CPC Central Committee. He said that China's anti-corruption drive has made some achievements during recent years, as the CPC treats corruption by looking into its root cause.

"We will continue to step up our anti-corruption efforts and punish those who violate laws and regulations to safeguard the purity of our party," said Gan Yisheng, secretary-general of the CPC Central Commission for Discipline Inspection.

In 2005, 115,000 party members received disciplinary punishment, accounting for 0.16 percent of the party's total.

Among them, 11,071 had been expelled from the party, of which 7,279 had been transferred to the judicial authorities for criminal investigations.